River suddenly becomes dry land at Kara market (PHOTOS)
The dryness was initially believed to be water hyacinth but the surface of what used to be the flowing river had become a firm ground.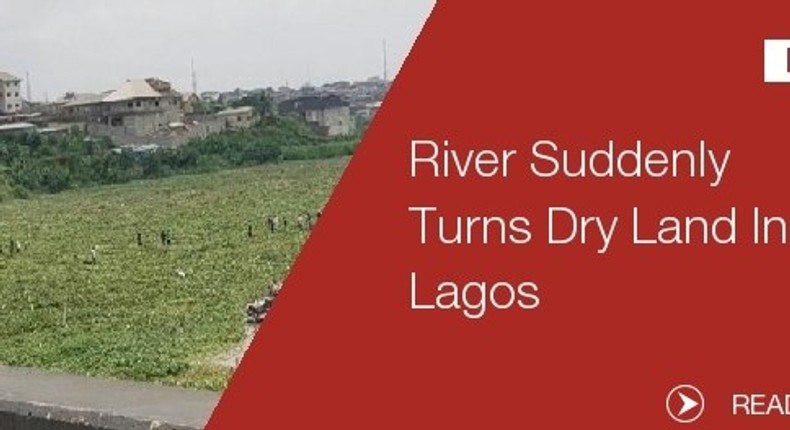 The incident which occurred on Saturday, June 18, caused heavy traffic in the area as passers-by trooped to see the dried section of the river which once provided water for the Kara cattle and ram market.
Prior to the rare occurrence, the water body once served as means of transportation for canoe owners until, according to residents, they woke up to see the channel blocked on Saturday morning.
However, the river was seen flowing freely on the other side of the Kara Bridge.
Environmentalists have warned residents to keep off the blocked channel for the risks of it opening up unexpectedly and advised relevant authorities to find a means of clearing the plants.
JOIN OUR PULSE COMMUNITY!
Recommended articles
2023 election: Tallen withdraws from Plateau South senatorial race
2023: Atiku reveals his 5-point agenda in Abia
Blasphemy: Tambuwal relaxes curfew in Sokoto after violent protests
I've read Qur'an, it does not justify killings- Tunde Bakare
FUTA students barricade Akure-Ilesa Highway over lingering ASUU Strike
Police confirm burning of LGA secretariat in Anambra
Beginners guide for Crypto day trading
Stablecoins and Altcoins are different
5 terms you should know before you invest in Cryptocurrencies