Buhari postpones scheduled medical trip to London
No reason has been provided for the postponement of what would have been Buhari's second medical trip to London in three months.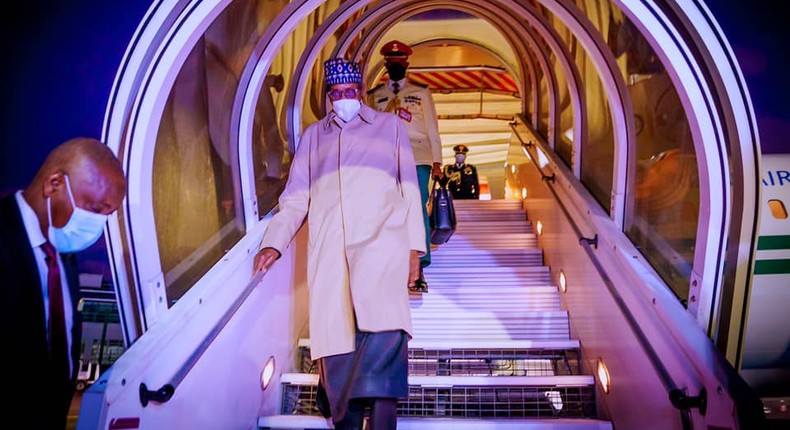 President Muhammadu Buhari has postponed his latest medical trip to London, hours after an announcement was made by the Presidency.
His spokesperson, Femi Adesina, had announced on Thursday, June 24, 2021 that he would jet to London on Friday, June 25 to meet with his doctors for a scheduled medical follow-up.
The trip was to last over two weeks, with the president scheduled to return in the second week of July.
Adesina announced on Friday afternoon that the trip has now been postponed indefinitely, without stating a reason.
"A new date will be announced in due course," he said.
The 78-year-old is a frequent medical tourist to the United Kingdom where he has spent around 200 days of his presidency since he was first elected in 2015.
His medical trips have proved controversial in the past when the president has stayed in London for extended periods, fueling speculations that he was too ill to lead the country.
The president's failure to significantly improve Nigeria's health sector has been touted by critics as one of the biggest failures of his administration.
"I think the president is wise and quite correct in his decision that he retains consistently the set of doctors who have ensured good health for himself," his spokesperson, Garba Shehu, said in March.
JOIN OUR PULSE COMMUNITY!
Recommended articles
NCC raises alarm over new virus that steals banking details
Abuja-Kaduna train services resume on Saturday
Neighbourhood Watch suspends officers for assaulting Uber driver during #EndSARSMemorial
FG says 74,413 jobs have been created through environmental projects
Customs intercepts live ammunition, other items worth N723m
Soldiers engage gunmen in shootout in Ekiti, rescue 6 abductees
Atiku says Nigeria not serious about fighting 'irresponsible', 'ill-trained' Boko Haram
Senator Ndume says insecurity in Nigeria is going down
Federal government says some countries have been working with Nnamdi Kanu