Fire breaks out at FreshYo factory in Isolo [PHOTOS]
A fire has broken out at the office of Ranona Nigeria Limited, the makers of FreshYo yoghurt, in the Isolo area of Lagos State.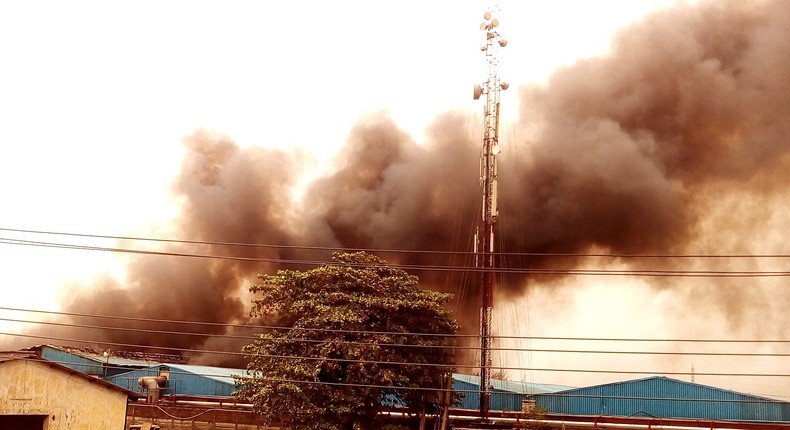 Firemen have arrived at the scene of the blaze but they have not been successful in containing it.
An eyewitness also told Pulse that some staff of the company are still trapped in the building.
"The source of the fire is still unknown. There are policemen and a few fire vans around but the building is still burning," the witness said.
"The workers said that they all ran out after an alarm was raised," he added.
According to the witness, who chose to remain anonymous, two of the workers also said that the company does not have fire extinguishers. It is not yet clear if there are any casualties from the incident.
Ranona's factory, which was completed in 2010, is worth N7.5 billion and covers 20,000sqm of prime land in Isolo. As at 2011, the company had 220 staff in its employ.
Ranona is a franchisee to Candia, a milk products manufacturer in France, and also produces Natures Fresh Fruit Juice, YoJus, Blue Boat cereal, Blue Boat Milk and Blue Boat oats among others.
----------------------------------------------------------
See Pulse photo gallery below:
JOIN OUR PULSE COMMUNITY!
Recommended articles
Group asks President Buhari to order publication of NDDC forensic report
PDP wins rescheduled Zango Kataf LG poll in Kaduna
ICC set to investigate abduction of school children in Nigeria after SERAP's petition
Fed Poly Bauchi sacks 2 lecturers for alleged sexual harassment
2023: Former House of Rep Speaker says the north rejects zoning because of Buhari
COVID-19: NCDC registers 159 more infections, 1 death
Kano Assembly Speaker drums support for Tinubu's presidential ambition in Northwest
Enugu Govt denies imposing multiple taxes, levies on private schools
Despite Buhari's warning, IPOB insists Anambra election won't hold if Nnamdi Kanu isn't released