Ali Modu Sheriff's appointment is best for PDP - Governor says
He said given the current situation of the PDP, the party needs someone to can stand up against "these devourers of our collective heritage", adding that Ali Modu Sheriff is the man for the job.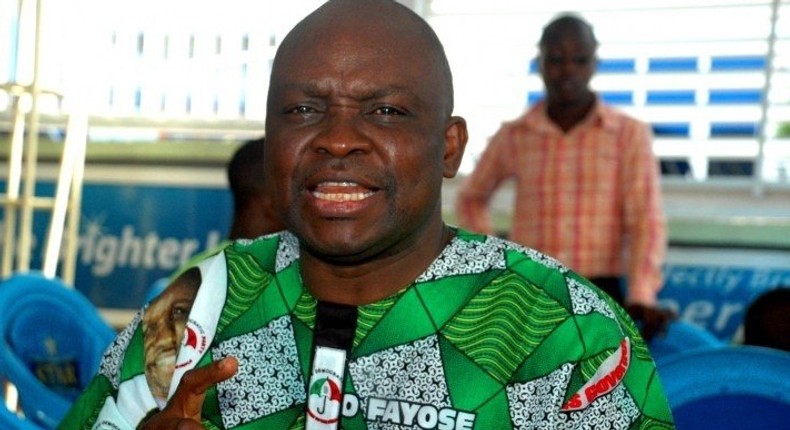 He said this in a statement released by his Special Assistant on Public Communications and New Media, Lere Olayinka.
"His emergence at this time is the best thing in the present circumstance and those aggrieved should sheath their sword and deploy their time and resources into fighting the All Progressives Congress (APC) instead of their own party," Fayose said.
He said his decision to support Sheriff's choice is borne out of his commitment to the party, which he has repeatedly defended over the years, adding that he "can't be linked with any decision that will not be in the best interest of the party. I therefore call on all my admirers and believers in my dogged fight for the revival of our party to support our new chairman, whom I believe has the required capacity to reposition the party."
Condemning those linking Sheriff to Boko Haram, Fayose asked; "Has Ali Modu Sheriff been tried and convicted by any court for sponsoring Boko Haram? Is he even being tried for involvement in Boko Haram activities? "Even APC Senator Ali Ndume is being tried for allegedly making contacts with the Boko Haram sect 73 times and he is still the Senate Leader.
"Also, Ali Modu Sheriff and their 'Saint Buhari' are in-laws courtesy of his (Sheriff) son's marriage to Buhari's daughter and no one has called the President a Boko Haram sponsor by association. Or are they also saying President Buhari could have allowed his own daughter to marry the son of Ali Modu Sheriff if he was indeed a Boko Haram sponsor?"
The Governor described Ali Modu Sheriff's emergence as constitutional as stakeholders like the National Working Committee members, Governors, Senators, House of Representatives members, BOT members and others were all involved in the processes that produced the new chairman.
He noted that "the party was in a peculiar situation and we need people who can stand up against these devourers of our collective heritage. I can say it confidently that Senator Ali Modu Sheriff is such a person and in the collective interest of our party, we should all rally round him."
Fayose added that for the party to be repositioned, decisions of its leaders must be respected. He called on those against Sheriff's appointment to put the party's interest first.
JOIN OUR PULSE COMMUNITY!
Recommended articles
5 things to know about the new Chief Justice of Nigeria
President Buhari returns from Rwanda after 26th CHOGM
PVC: Yobe Govt declares 3 work-free days for civil servants
JAMB warns CBT centres against extortion
Buhari to swear in Justice Ariwoola as acting CJN
NNPP registers 2m members in Borno — Chairman
Justice Tanko Muhammad resigns as CJN
Tinubu jets out to France
Under Buhari, sanity is being restored in civil service- BMO