10 amazing things you didn't know about ex minister
If you thought you already knew everything about Aunt Oby Ezekwesili, we've got news for you.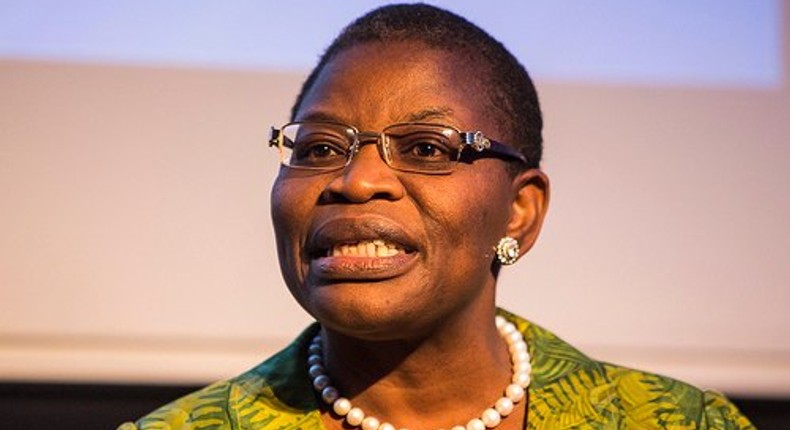 If you thought you already knew everything about Dr Obiageli Ezekwesili, well, weve got news for you.
Aunt Oby (as she's fondly called) has lived all of her life in the public domain, so it's forgivable to think that you know who she is or all she's about.
She was minister for education and solid minerals at different times under former president Olusegun Obasanjo. Oby also co-founded Transparency International; the global anti-corruption body with headquarters in Berlin, Germany.
Oby was Vice President of the World Bank's Africa division from May 2007 to May 2012.
Her disdain for corruption as a public office holder in Nigeria was enough to earn her the 'Madam due process' sobriquet.
These days, Oby intersperses her work as one of the continent's most sought after consultants, with standing in the gap for the kidnapped Chibok schoolgirls who were abducted by terrorists in 2014--an advocacy that has since caught global attention.
Oby also uses the Bring Back Our Girls (BBOG) advocacy group to draw global attention to the plight of all persons who have been abducted by terrorists from Nigeria's war ravaged northeast region.
All of this at just 54 years of age! You'd think she's been around forever.
Aunt Oby recently sat down with ThisDay to share some aspects of her life you didn't know about.
And because we are nice like that around here, we'll be sharing those with you….
1. Oby adores her husband a lot:
Wherever you are this moment, Dear Pastor Chinedu Ezekwesili, just know that your wife absolutely adores you.
That's a secret we couldn't keep to ourselves any longer.
"My husband is a critical part of my life. He is a very wise man. He has this unbelievable wisdom, and I spend a lot of time listening to him. He is my best friend. We basically have the strongest relationship which helps to make me emotionally solid. He is my number one cheerleader".
The sound you just heard was that of us blushing on Pastor Ezekwesili's behalf.
2. Oby's Dad had such a massive influence on her:
"My father wanted me to be a chartered accountant and I trained to become one", Oby says.
She continues: "As a child, Dad and I would always discuss public affairs at every opportunity and I became very conscious of social and political issues beyond my age. The (civil) war had a deep effect on our family following the loss of relatives and possessions. It left many families including mine, scotched, but my father raised us to never allow anything to enslave our souls.
"As he explained how poor governance was a reason for misery when we returned to Lagos after the war, my little self would promise him that "I would do something about poor governance when I grow up." It turned out that I would do something later to put me in a position where I could address good governance, transparency, accountability and anti-corruption".
What more can we say? Thank God for Dads!
3. Oby sees career as an assignment, not a job:
A job isn't a meal ticket for Oby.
If the job doesn't serve a bigger purpose or touch lives, count her out, she says.
"I do not see career as a job; I see career as an assignment. My belief is that my life is a continuum, and being a continuum means that I am not here to do a job so that I can earn income, or so that I can have a good life on earth. No. It is that my life was given to me by God so that I can have a purposeful impact according to what he has created me to be".
4. Values are important for her:
Nigeria's former minister says you can't even trick her into negotiating her values. Not now, not ever.
"I set very high standards for myself. For example, there is nothing worthy enough to make me to negotiate away my values just as my father taught me.
"You see, in decent societies nobody cares about what you can competently do, but they really care about your values. Your character is ultimately the deal breaker in the pursuit of a career".
Louder for those at the back, Ma'am!
5. She has a covenant with her husband:
You may want to grab a chair for this one.
Ok, here it comes: "Two people bonding in love can change the world because of collaboration and cooperation. I have experienced the joy of marriage; the joy of that partnership with my husband is based on deep, unreserved love for each other.
"We basically said to each other that no matter what our conditions might be, we are in this together for life –meaning we are living for each other. My husband lives for me and I live for my husband".
Nah, get us a handkerchief already. We trippin'.
6. You can't even take God away from Oby:
Not like that was ever in doubt. However, because faith comes by hearing and hearing…..
In Oby's words: "God is my greatest ally in life. There is no me without God. The greatest essence in life is that you are created by One who has the purpose in mind in that creation process and decided that there would be somebody and her name would be Obiageli Ezekwesili.
"He decided to put certain things in her and she is supposed to do certain things here on earth. And if she follows her way right, she will definitely return to me and spend eternity with me. So, for me God is everything. God is purposeful in creating everyone of us.
"I have been a beneficiary of His grace and interventions in many ways. I have seen God in the area of my calling".
7. Oby didn't look for jobs; jobs looked for Oby:
"I say to young people that I mentor that I am one of the very few people that have never had to seek jobs in their lives. The only time that I ever applied for one was when I applied to train as a Chartered Accountant in after my Master's degree. All the other things or works I have done in life, I was head-hunted for and persuaded on merit to accept them".
8. Oby is a bookworm:
Like, she devours books like there's no tomorrow.
"Fun time is also when I read because when I read … I read different kinds of books and there are some which when I am reading, you would think that I was having the most fun time in my life as my emotions would shine through".
9. Ice cream and hot chocolate does it for Oby:
We want to assume that when Pastor Ezekwesili was doing the 'toasting', he threw some ice cream into the mix for starters.
Let's just say that really worked a treat (pun unintended).
"I love ice cream and hot chocolate! I know if you asked my husband, he would say, "those are the luxuries that my wife loves."
Next time you have an appointment with Aunt Oby, you know exactly what to carry along.
We've sha tried for you people today.
10. A good shower is central to Obys mood:
"Number one health habit is to get a good shower. I love water, water does magic to me. No, I don't believe in magic. Water is a miracle for me. Water for me is wealth.
"Number two is a good sleep. Though I don't get much as I should get, any time that I get a good sleep, I wake up feeling like there is nothing I cannot accomplish".
Ok, what other Oby secrets haven't we let out?
You've got to pay for the rest, fam. We nice like that.
JOIN OUR PULSE COMMUNITY!
Recommended articles
BREAKING: Loss for LP as INEC declares PDP winner of Enugu guber election
Amotekun arrests suspected hoodlum terrorising Osun residents
UK rates INEC high, condemns violence during guber, assembly elections
Sultan declares Thursday 1st day of Ramadan
Don't lose hope on Enugu governorship election, Nweke urges supporters
PDP dissolves its Katsina State Executive Committee
NPA expects 21 ships with petroleum, others at Lagos ports
Okowa felicitates Tony Elumelu at 60
Wild jubilation erupts in Abia over Labour Party's guber victory
Victor Osimhen: Where should the Super Eagles striker go this summer?
Peseiro chasing Rohr's feat as the Super Eagles resume campaign
Nigerian sensation Gift Orban wanted by AC Milan and Napoli
"Present crop of quartermilers are not challenging me enough to retire" - Patience George
Serie A: Udinese renew 'cornerstone' Isaac Success contract
Nigeria to play New Zealand and Haiti in April