Reject President's $30B loan proposal - PDP tells NASS
The Peoples Democratic Party has called on the NASS to reject President Buhari's $30billiion loan proposal.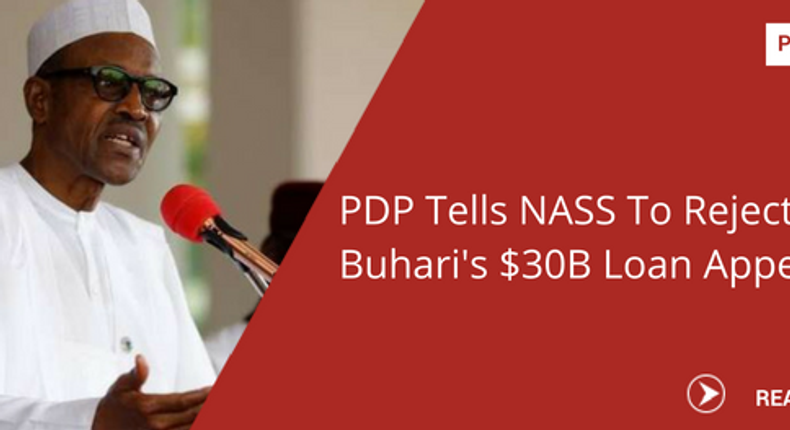 In a recent statement by Dayo Adeyeye, the spokesman of the Peoples Democratic Party said the proposal will only plunge Nigeria into huge debts.
Adeyeye said: "We totally disagree with the APC led federal government on this latest move,  and call on President Muhammed Buhari to first and foremost explain to Nigerians what his administration has done with the so-called  'recovered looted funds' and how far the 2016 budget is fairing."
The party further said the President must itemise what he intends to finance with the proposed borrowing instead of lumping it up in a coded term, and to plunge the nation into debt.
Adeyeye further said: "Nigerians need to know how much revenue government has been able to generate from crude oil, non-oil and independent revenue sources since assumption of office from May 2015 to September 2016. This clarification will boost confidence of Nigerians on the management of their resources especially in this period of recession before thinking of engaging in external borrowing.
"Let us state unequivocally, that history will not forgive this APC government and its collaborators if they allow this injustice and maladministration to our economy and citizens to stand. We therefore call on the two chambers of the national assembly to reject this anti-people request by an anti-people government that has no genuine interest for the growth and development of the people of this country," he said.
JOIN OUR PULSE COMMUNITY!
Recommended articles
NDLEA seizes N6bn worth of drugs in Apapa – Commander
Kebbi govt allocates land for 5,600mw solar power project
Makinde approves recruitment of additional 500 Amotekun Corps
Bandits kill Catholic priest on farm in Kaduna
Atiku group fires back as Obasanjo admits mistake in picking running mate
Nigerian lady offers her kidney to save Ekweremadu's daughter
US police found missing ex-Nigerian diplomat dead
Obasanjo tutors students on need to imbibe religious tolerance
Traders in tears as flood washes away 30 shops in Anambra Market