'President is just making noise,' Fayose says
Fayose also stated that Buhari's government is announcing its anti-corruption efforts in order to distract the public from its failure to deliver on its electoral promises.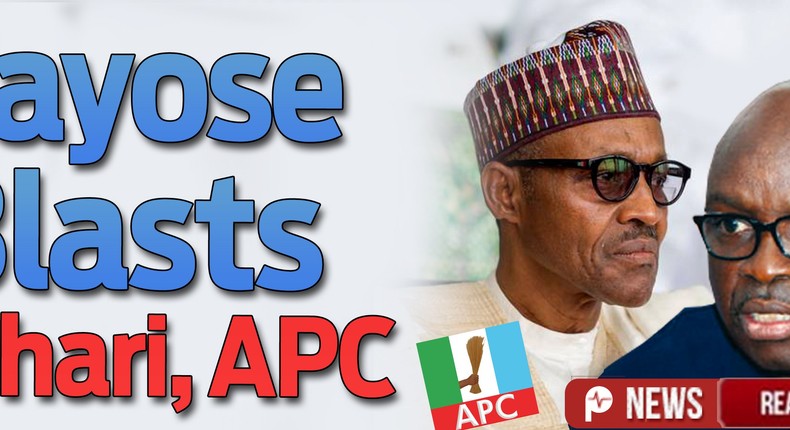 Ekiti State Governor, Ayo Fayose has said that President Muhammadu Buhari's war against corruption is mere noisemaking.
The governor made the comments via a statement released on Wednesday, August 5, 2015. It reads:
"If President Buhari knows exactly where the stolen funds are kept and who looted the funds, he does not need all these public announcements. Rather, he should make public names of the looters and bring back the purported stolen funds, location of which he has identified. It is when he is able to bring back the money that he should make announcements of recovered funds."
"You don't announce a process to the public. Rather, you announce the results because that is what is of interest to the people. It is like you are announcing that you know where armed robbers reside, won't they change their location?"
"What the All Progressives Congress (APC) spin-doctors and their collaborators in the Presidency are doing is simple. It is such that when there is nothing to tell the people as per the rising Boko Haram attacks, Dollar and other foreign currencies exchange rates, petrol pump price and other seeming failed promises of the APC federal government, they will accuse former President Goodluck Jonathan and his men of corruption, insult Peoples Democratic Party (PDP) and make noise about fighting corruption."
"President Buhari and his men should however know that Nigeria of today is different from that of 1983 and the system under which they are operating now is also different. Nigerians are watching and unlike 1983, nothing can prevent them from asking questions, which they are already asking."
"Some of those who sponsored the President's election have not done any other jobs apart from holding public offices. Yet, they provided private jets and funds with which the President campaigned across the length and breadth of Nigeria. He should let Nigerians know where they got money to buy private jets and the several billions of naira spent on his election."
"Mr President and his men should know that these planned efforts to brand PDP as a party of corrupt people and supress the giant strides of the Jonathan administration won't work because Nigerians know that APC is peopled with more corrupt people and the President must treat the issue of corruption without looking at political parties."
"No one sits with corruption to fight corruption because as it is today, President Buhari is sitting among corrupt people and he must first extricate himself from the comity of corruption that he is before his anti-corruption stance can be accorded respect."
JOIN OUR PULSE COMMUNITY!
Recommended articles
NYSC sanctions 18 youth corps members in Ekiti
UK Prime Minister, Boris Johnson resigns
National Water Resources bill not for land grabbing — FG
8 youth corps members to repeat service year, 4 get extension
Gov. Sule appoints 2 Igbo traders as Special Assistants
Ex-Perm Sec seeks improved funding for military
Fuel queues may persist until we fully deregulate - Minister
Poor Health Care: Nigerian man solo-protests at the Ekweremadus' trial [Photos]
Barkindo's death a huge loss to Nigeria — Orji Kalu