The
The overwhelming feeling of worthlessness, triggered by a consistent reality where best efforts never yield great fruits is enough to send a human being with a different emotional tolerance level over the edge. The torture needs to stop and today, the conversation begins with University of Ilorin.
ALSO READ: Lagos is messing with my mental health
According to Makawai, news emanating from UNILORIN today confirms the death of 27-year-old Adigun Olawale Emmanuel, a final-year student of faculty of Agriculture on Thursday, November 29, 2018, at Oke Odo Area of Ilorin.
Unconfirmed reports, including a supposed chat he exchanged with a friend before taking his own life by drinking the strong and very lethal pesticide, Sniper claim that the reason for his suicide was being to fail his final-year project twice.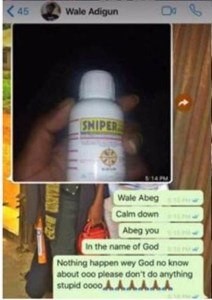 In the chat, Emmanuel claims that he had been accused of plagiarizing the write-ups in his project.
ALSO READ: Monkey chained to bed, shaved daily and raped for N800
The implication of failing a project would be getting an 'F' in a six-unit course and having an extra year, equaling not graduating with his mates. For a person who had reportedly attempted suicide a first time, his heart probably couldn't take the bad news and so, he sadly gave up.
After allegedly drinking sniper on Thursday, his swollen body was reportedly discovered by neighbors on Saturday, December 22, 2018, after a foul, putrid smell started emanating from his room.
The Management of UNILORIN has since visited Adigun's hostel in Oko Oba and contacted his parents.