Lawmakers want to amend constitution for themselves
The Senate is tinkering with the 1999 constitution for its own benefit. We are so done with these guys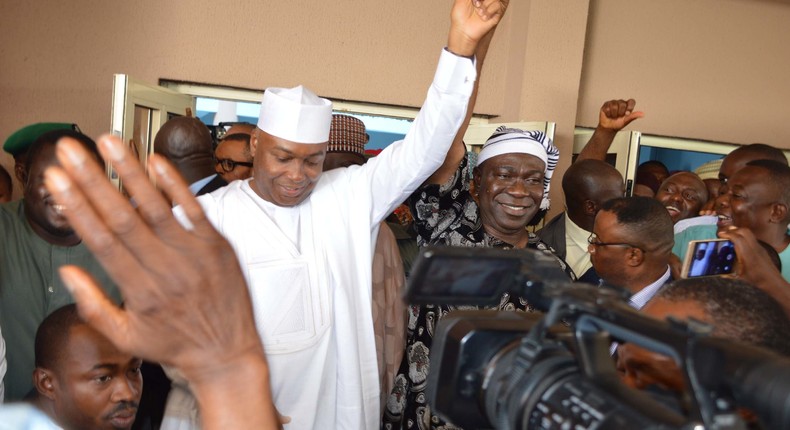 The National Assembly is at it again.
To protect all lawmakers from being prosecuted for corruption, the Senate has embarked on a mission to amend the 1999 constitution.
If successful, Nigeria's lawmakers won't be prosecuted for criminal or corruption offences for as long as they remain Senators or Representatives.
The bill which was sponsored by Senator Solomon Olamilekan (APC, Lagos East), reads in part: "No civil or criminal proceedings may be instituted against the President of the Senate or Speaker of the House of Representatives or any officer of the National Assembly in respect of an Act carried out in compliance with a resolution of the House or the exercise or any power conferred on or vested in him by the Standing Orders or the House or by the Constitution."
According to a report in The Guardian, the Bill has been gazetted and is being given accelerated legislative processing.
Here's the basis for what the Senate is doing--Senate President Bukola Saraki has been dragged before all the courts in the land for alleged false declaration of assets and money laundering offences.
Saraki has shown up in court rooms with an army of shameless Senators chanting his name and licking his Babariga (traditional Nigerian outfit) in solidarity.
Deputy Senate President, Ike Ekweremadu, has appeared in court alongside Saraki for allegedly forging standing rules of the Senate.
Elsewhere, Speaker Yakubu Dogara may (or may not) face prosecution for inserting illicit line items into the budget in what has been called 'Budget Padding'.
If the lawmakers have their way, all of the cases against Saraki, Ekweremadu, Dogara and other principal officers of the National Assembly facing prosecution for allegedly stealing from Nigeria, won't be taken before any court while they are still in office.
No Police officer or anti-graft agency personnel will go near the lawmakers as long as they remain lawmakers.
Some lawmakers enjoy the status of lawmakers for four terms--that's sixteen years of not being prosecuted by the State even if there's a case against you; just because you represent your pocket and not the people.
Only four categories of persons--the President, the Vice President; the Governor and Deputy Governor--are allowed immunity from prosecution by the constitution.
The Senators want in on the action.
It is now trite that our lawmakers are self-serving. They only look after themselves. It's like saying the sun will rise at dawn.
These same lawmakers run an opaque budget, award themselves jumbo pay and allowances, purchase exotic cars every other year and pass bills that favour no one else but themselves.
This immunity bill is the National Assembly staying true to character yet again.
They should be very ashamed of themselves.
JOIN OUR PULSE COMMUNITY!
Recommended articles
Remove HND/BSc Dichotomy or scrap HND programmes - NBTE Boss tells FG
BREAKING: Tinubu approves salary increase for Federal Tertiary Institutions
A new Nigeria is possible - Uzodimma
Nigeria is lucky to have First Lady at this crucial time - Omo-Agege
Corps member renovates classes, gives free uniforms to 300 students in Jigawa
Security presence intensifies in Jos as tribunal delivers judgment
CCD laments exclusion of PWDs in governmental appointments
FCT-MPWB advises intending pilgrims to deposit ₦4.5m
BREAKING: Police speaks on teargas incident during MohBad's candlelight procession
Super Falcons' Michelle Alozie drops football hot take
Kane defends Harry 'One of the best defenders in history' Maguire, calls for end to scapegoating
Provedel: 4 goalkeepers who have scored in the Champions League including Vincent Enyeama
Andre Onana: Critics of the Manchester United goalkeeper are missing the bigger picture
100 not out: Lewandowski moves closer to Messi and Ronaldo with century of European goals
Is Victor Osimhen in for a troubled season under Rudi Garcia?