Senate President says EFCC, DSS, ICPC must abide by court rulings
Senator Bukola Saraki has advised the EFCC, DSS and ICPC to abide by court rulings and orders in fighting corruption.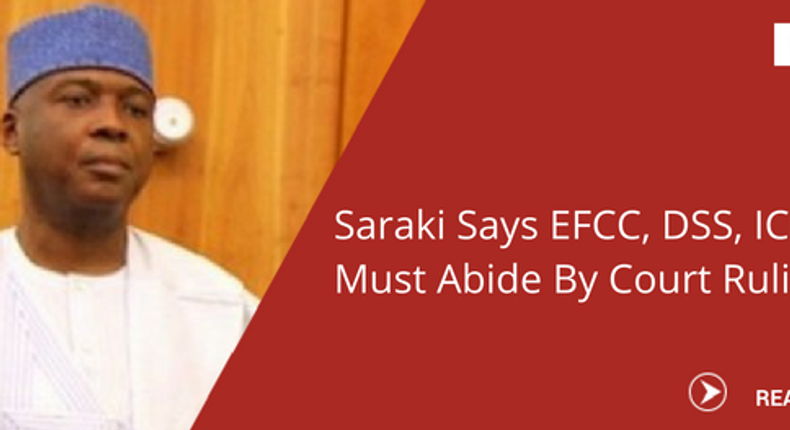 Saraki made this known at the national anti-corruption summit in Abuja on Tuesday, October 18, 2016.
Saraki further said the anti-corruption battle does not start or end with the ICPC, or the EFCC, the Police or the DSS.
Saraki said: "I would not end my remarks without commenting on the need for every authority under our constitution to abide by decisions of courts made within jurisdiction. This is the only way to preserve law and order and maintain the rule of law as an essential ingredient for the survival of our nascent democracy."
Speaking further, Saraki said: "As emphasised earlier, anti-corruption does not start or end with the ICPC, or the EFCC, the Police or the DSS. This fight is all-encompassing. This fight can only be fought and won by all of us – the people and their government – working in sync and playing our own part in the process within the ambits of our defined powers.
"If we are truly serious about building a Nigeria that is free from corruption and its myriad consequences, then we must fight to build a nation of institutions under law," the Senate President said.
In conclusion, Saraki said unless there is order, the anti-corruption war will not come to fruition.
"We must work to ensure that there is order in all that we do. Unless there is order, we will not get the right results. Unless the anti-corruption war is underpinned on due process, the respect of the rule of law, and a clear acceptance of the separation of powers – with our constitution as our guiding law, we will not achieve lasting and sustainable results," Saraki said.
The senate president is currently facing charges of false asset declaration at the Code of Conduct Tribunal (CCT) after he and the Deputy Senate President, Ike Ekweremadu had been charged for forgery but later dropped by the FG.
Our newsletter gives you access to a curated selection of the most important stories daily.
Recommended articles
Troops invade camp of notorious bandit in Kaduna, recover IED materials
Opposition create fake news and blame it on Labour Party - Peter Obi
Court fixes date to hear certificate forgery suit against Tinubu
2023: What Obasanjo told us about Tinubu's chances - Gbajabiamila
Other unions accepted offers to suspend strikes except ASUU - FG
Buhari orders Ministry to get rid of explosive remnants in Northeast
NUEE Strike: Shutting down National Grid is sabotage — Experts
BoT Chairman solicits support for PDP to reconcile Atiku and Wike
Edo constructs 546km of roads in 6 years, plans a total of 886km - Govt