Mad Dog Outburst: Aisha Buhari should not have replied Fayose
Ayodele Fayose is the most popular governor in Nigeria today. Well, call him controversial and you won't be wrong.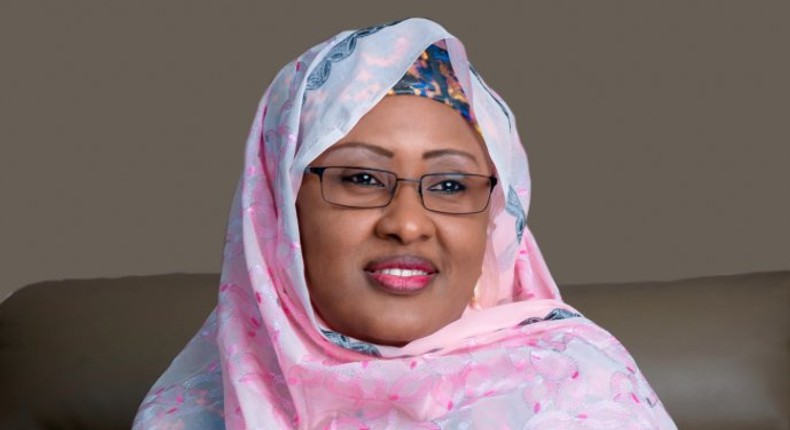 Ayodele Fayose is the most popular governor in Nigeria today. Well, call him controversial and you won't be wrong.
Popular for buying banana from a young boy who was hawking while his mates were in school, to buying fish at the market, to drinking palm wine at a local relaxation centre in Ekiti, the list is endless. These and many more earned him the title "The Peoples Governor."
Fayose's popularity grew even more during the build up to the 2015 General Elections (especially the Presidential election) as he and former First Lady, Dame Patience Jonathan were more vocal than the then Peoples Democratic Party (PDP) spokesman, Olisa Metuh.
From criticising the All Progressives Congress (APC) to personal attacks on the then APC Presidential Candidate, Muhammadu Buhari, some loved (and still love) his criticism of the APC and President Buhari, while others are of the view that the governor is only seeking attention.
Most Nigerians had felt that after the elections, the governor would focus on his job of delivering the dividends of democracy to the people of Ekiti state. At the last count, Fayose (and his Chief Press Secretary, Idowu Adelusi; media aide, Lere Olayinka) still hold the record for releasing the highest number of press statements for all of President Buhari's moves; trips, ministerial appointments, anti-corruption fights, his health and so on.
No one can doubt Fayose's ability to remain in the news regardless of what it takes, be it good or bad.
Wife of the President, Aisha Buhari on the other hand has maintained a "classy but low profile" since her husband won the election. Unlike others, she prefers to be addressed "Wife of the President" rather than the usual "First Lady" title that we are used to.
Well, trouble started on Monday, June 20, 2016 when Governor Fayose's Zenith bank account was frozen by the Economic and Financial Crimes Commission (EFCC).
Fayose had told the workers that the state was broke adding that he cannot sell himself or his family to pay their salaries.
Fayose while reacting to the incident, described the action of the anti-graft agency as criminal and illegal adding that Section 308 of the 1999 constitution gives him immunity as a sitting Governor.
On Tuesday, June 21, 2016, Fayose in a statement signed by his Chief Press Secretary accused President Buhari of corrupt practices adding that his wife was indicted in the Halliburton bribery scandal.
""Even the President cannot claim to be an angel. The estate he built in Abuja is known to us. His wife was indicted over the Halliburton Scandal (sic). When that American, Jefferson, was being sentenced, the President's wife was mentioned as having wired $170,000 to Jefferson. Her name was on page 25 of the sentencing of Jefferson. We can serialize the judgment for people to see and read," Fayose claimed.
The Federal Government has debunked claims by the Ekiti state Governor, Ayo Fayose, that the first lady was implicated in the Halliburton scandal.
Similarly, Former EFCC Chairman, Ibrahim Lamorde dismissed reports that Mrs Buhari participated in a bribery scandal involving a U.S. Congressman, Williams Jefferson.
But Mrs Buhari who was not satisfied took to Twitter and described Fayose as an "Unchained Mad Dog."
"Enough is Enough Fayose. A mad dog that isn't chained. I refuse to keep quiet. ENOUGH IS ENOUGH FAYOSE IS AN UNCHAINED MAD DOG If Buhari is 73 years old, I Aisha am 45 years old, I have more than enough energy to face you," she tweeted.
Here is a screen shot of the tweets before they were deleted:
Was deleting the tweets the best thing to do? Maybe these reactions could help answer the question.
She was angry, Yes! But there are better ways to vent your anger. Social media is definitely not one of them. Tiwa Savage and Tee Billz; Wizkid and Linda Ikeji; Davido and Dele Momodu remain classic examples.
While some have advised that she should have called Fayose instead, I feel the best thing to do was to just ignore. Silence itself is a response, the best in this situation. Replying him could make people think that you might have acted in fear since the case is currently being investigated.
Truth is, Fayose does not care about what others think about him but as the wife of the president, you have a lot to protect; one of them is your image.
Fayose has already mastered the art, dragged Mrs Buhari down and trust me, he will win this argument with experience.
JOIN OUR PULSE COMMUNITY!
Recommended articles
Buhari congratulates Archbishop Onuoha, CCN's President-elect
Sokoto PRP collapses into APC, as another Tambuwal's Aide dumps PDP
Nigeria Immigration directs passport offices to work Saturdays
Former MD National Bank, Pius Ajumobi, is dead
Police arrest teacher for alleged sexual assault of 4-year-old pupil
Ugwuanyi visits Enugu community affected by farmers-herders clash
FRSC boss decries killing of 2 officers
Court fines PRP presidential candidate for late filing of documents
2023: Demand by South East for President morally right, timely – PDP
Get our Top Stories delivered to your inbox