Over 100 militants invade community, kill 15
Another resident, Umoru, who was said to be eating noodles, was chased, hacked and shot to death, along with a friend, Danladi.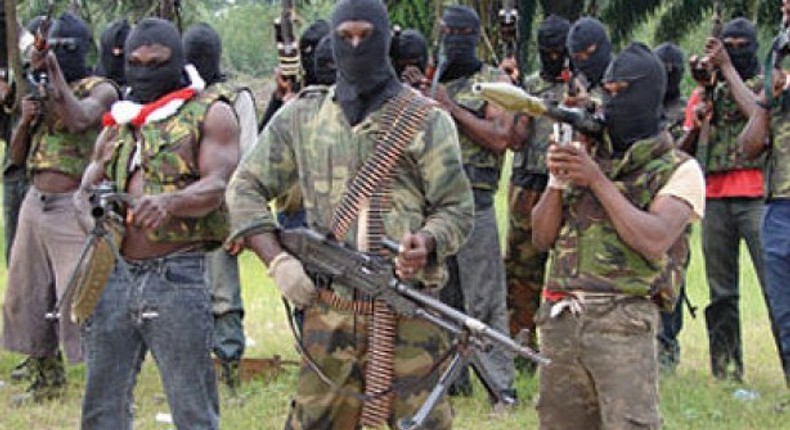 No fewer than 15 people were killed in Imushin community in the Ogijo area of
The militants numbering about 100, and armed with guns and cutlasses, were said to have invaded the community around 11pm and started killing residents.
Among the victims was a technician, Waheed Buhari, aka Yah Alau, who was shot dead in front of his room, report said.
One of Waheed's children, Mariam, sustained bullet wounds.
It was gathered that the militants also shot dead a travel agent, Oladele Ogundare, who was said to be returning home in his car when the gunmen opened fire on the vehicle.
The assailants were said to have attacked a mosque in the community, and killed a Muslim cleric.
They also reportedly robbed and injured customers at hotels in the environs. More than 25 shops were also looted.
According to many residents of the community, the militants threatened to continue the killings when they return.
A resident said the assailants were suspected to be Ijaw youths involved in pipeline vandalism.
She explained that they were on a revenge mission as some operatives of the State Anti-Robbery Squad had killed two of the vandals earlier on Friday.
"The whole thing began around 4pm on Friday. I was at the backyard of the hotel, cutting some weed when some SARS officers came in. They were shooting and ordering people to stop moving. There was confusion in the hotel," the resident who pleaded not to be named said.
"The SARS officials did not leave until after three hours. They killed two of the vandals and took away the owner of the hotel, a woman.
"Around 10pm, I went to urinate when I saw so many hoodlums coming from the waterside down the road. They carried sophisticated weapons and when they got here, they started shooting. They blew off the hotel windows and shot people dead. They killed two men here in Lapete village."
A friend of the electrician killed in Oke Muti, said the Ilorin, Kwara state indigene had tried to shut his door when the militants killed him.
"He was going to urinate when the militants started firing. He tried to quickly shut his door, but it did not jam. They opened fire on him at the door step and did not stop until he dropped dead," the friend said.
"Not satisfied, they entered his room and sprayed everywhere with bullets. Waheed's child, Mariam, that was in the room was hit. She is still at the hospital."
He added that the police recovered 15 corpses in the community.
The widow of the travel agent killed in the Ereko area of the community said her husband, Oladele, who worked on Victoria Island, had left for work in his car on Friday morning without any foreboding.
"He gave me money for foodstuffs after dropping me off in front of a bank where I wanted to do a transaction. By 6pm, we spoke and he asked me to prepare rice for him that night," she said.
"By 10pm, I called his line; it rang and he didn't pick. I tried it again at 12am, still no response. I called his mother by 6am that I had not been able to reach him on his two telephone lines and she promised to call as well. She also couldn't get to him.
"It was this morning (Saturday) that I saw a crowd of people in my house. They said he was a short distance from home when he was shot dead. I can't believe this because we have barely spent a year in this community and this has never happened before," the widow said.
Confirming the attack, the Ogun State police Public Relations Office, Muyiwa Adejobi said only three people were killed.
"Around 11pm at Ereko Community, Ogijo, some hoodlums numbering about 100 invaded the community and started shooting sporadically. Bullets hit one Waheed Buhari and his daughter, Mariam. While Buhari died, the daughter is still at the hospital. Two other unidentified corpses were found, making a total of three deaths," Adejobi said.
"Information from eyewitnesses showed that the hoodlums were militants and they came from the riverine area."
He said investigations are ongoing, adding that the police is particularly interested in why the suspected militants came in such a large number.
JOIN OUR PULSE COMMUNITY!
Recommended articles
Buhari pays surprise visit to 23 freed train passengers in Kaduna
FG vs ASUU: Appeal Court to rule on Industrial Court's order Friday
2023: Ayu predicts Atiku's victory by 7m votes margin
It is safe to assume Tinubu is missing – Atiku's spokesman
2023 budget: Rep Uju-Chima seeks more allocation to teachers, education devt
Buhari to Service Chiefs: Replicate Northeast successes in other zones
Leave Tinubu's personal life, show Obi's achievement, APC Ghana dares LP supporters
2023: How political parties can substitute guber candidates - INEC
ASUU to sue FG over registration of CONUA, NAMDA
Get our Top Stories delivered to your inbox