Arik Air has become a national problem
Arik is now the poster child for flight delays, arbitrary cancellations, customer mishandling and other unbelievable things .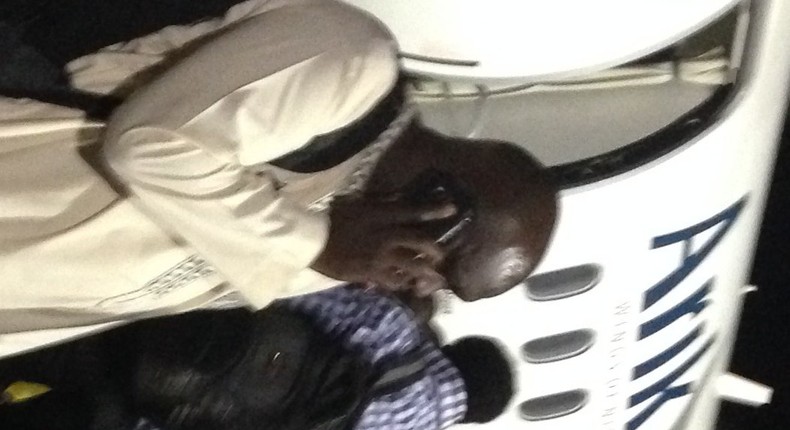 Arik Air has become a national problem.
The situation is so bad that Arik is now the poster child for flight delays, arbitrary cancellations, customer mishandling and other unbelievable things that would have seen the airline shut down a long time ago in saner countries.
But this is Nigeria, so the madness continues.
On March 31, 2014, Arik locked its passengers, including musician Banky W, in an airplane with no air conditioning. The passengers stayed this way for more than an hour and, according to accounts, some people even fainted.
"My thoughts are as follows: it was an avoidable disaster, and one that could have ended up much worse for the staff and equipment of Arik Air. This policy of enclosing passengers within a cabin with no A/C is senseless…" Banky wrote after the incident.
That incident alone constitutes false imprisonment and criminal negligence on Arik's part, yet there was no investigation or penalty; only an apology which was issued more than a week later.
On November 12, 2016, DJ Neptune also criticized Arik for leaving him stranded and losing his equipment.
"Dear @flyarikair @arikair. It is not a must to do business, if you can't act right kindly pack up and stop frustrating passengers. See how passengers going to Benin almost stopped us from boarding today out of frustration, not knowing my own was on the way waiting," he wrote.
He also explained how one passenger lost her wedding dress on the same flight.
On November 13, passengers waiting to fly Arik from Kaduna to Lagos were delayed from 2pm to almost 1:00am.
According to a passenger who works with Pulse, staff of the airline had actually started sneaking out of the airport without informing passengers that the flight had been cancelled.
Unfortunately for the Arik staff, they were detained by some passengers, including DJ Humility, who posted videos on Instagram.
"Arik air is seriously messed up!! We've been in the airport since 1pm, our flight was meant to takeoff by 2pm from Kaduna to Lagos.... This is almost 9pm we are still here and this crazy officials ain't showing any concern leaving everyone stranded here.. They do dis cus dey always get away with it but tonight that shitss gonna stop!!!!! WE ARE HUMANS!!!" he wrote.
Arik has become so notorious for its poor customer service that someone created a whole blog dedicated to (negative) experiences on the airline.
"This is how over 200 international passengers were held against their will without information, without assistance, without even food or water for more than 15 hours! It should also be noted that these TWO HUNDRED PASSENGERS were international passengers, meaning they were in a foreign country so there was no option to go back to their homes and wait for their flight information. They had no home there and had been prevented from going home for reasons unknown to them," one complainant, Lucie, wrote on the blog.
Another person, Kehinde Gafar wrote:
"I am writing on behalf of my father of the dreadful experiences he has had with Arik Air. Flying on a return journey from London Heathrow International to Murtala Muhammad International Airport Lagos,his flight was delayed for 24 hours until he could actually get to Lagos! Also, my father had to make an onward journey to Ikorodu."
Arik Air has also been accused of gambling with the lives of its passengers through illegal practices.
Sources within the aviation industry told Sahara Reporters in October 2016 that the airline pays pilots $200 to exceed the maximum number of landings permissible by the Nigerian Civil Aviation Authority (NCAA).
A staff in Arik's catering department also told Sahara Reporters that the airline takes meals to serve in New York in cargo hold from Lagos because of huge debts owed food vendors in New York. The meals, she said, are usually rancid after the long flight, but are still served to passengers. Passengers are said to regularly complain of food poisoning.
On Friday, November 11, an Arik Air aircraft lost one of its two engines while in flight, with over 100 passengers on board. Luckily the plane made an emergency landing, and this might be a random incident, but given Arik's history of carelessness, I seriously doubt it.
There's absolutely no reason why Arik Air should get away with all these infractions without being investigated or penalized in any way.
Arik Air has become a national problem and it's time for the airline to either clean up its act, or get all the way out of Nigeria.
JOIN OUR PULSE COMMUNITY!
Recommended articles
Obi presents software engineer as witness against Tinubu at tribunal
Obasanjo believes Nigeria ripe to have female president
Nigeria wins UN Economic, Social Council seat
Sanwo-Olu appoints SSG, re-appoints 2 others
Tinubu signs bill to extend judicial officers retirement from 65 to 70 years
Kano APC seeks tribunal's order to inspect governorship election materials
Yar'Adua bags posthumous award, ex-UNILAG VC, others honoured
PDP wants Ogun, Nasarawa governorship tribunals transferred to Abuja
Family breaks silence on Anambra Senator's death
'There are people in Barcelona who don't want me to return' — Messi
EXCLUSIVE: 'It is only Paul Onuachu' — Frank Onyeka reveals his Super Eagles friend
Explained: How much will Lionel Messi earn at Inter Miami in USA?
Ese Brume soars to her best mark this season at ORLEN's Cup
Romelu Lukaku gives advice on how to stop racism in football
Victor Osimhen's unprecedented Capocannoniere