Is casting social media Influencers jeopardizing Nollywood? [Pulse Editor's Opinion]
Nollywood actor Jidekene Achufusi, FilmOne head of production Mimi Bartels among others, weigh in on the latest trend of producers casting reality stars and Instagram influencers.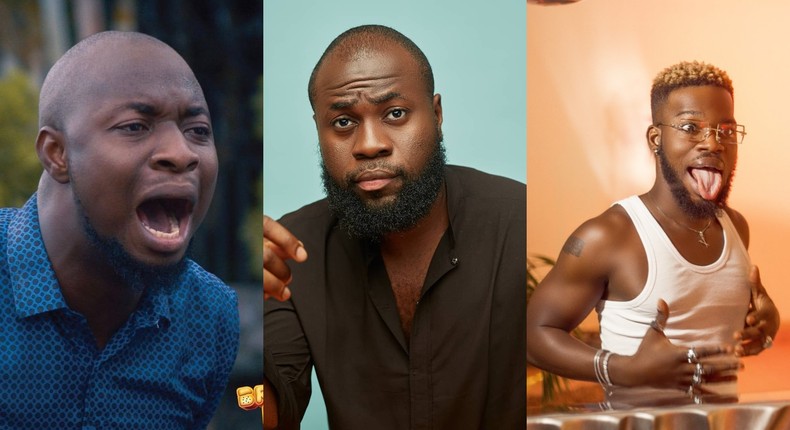 Nigeria's film industry is finally getting the much-desired attention it's craved for decades.
With US giant streamer Netflix among others staking claims to local titles including production deals, the sky seems a pale comparison for ambitious heights.
This newly found international attention has also come with the understandable pressure to make exceptional and attention-seeking moves. For the non-exclusive class, jumping on the box office razzmatazz might be the only shot at getting a seat at the negotiation table.
Nollywood's pursuit for box office figures is a conversation better suited for another time. For now, let us focus on how this race may have birthed a new trend.
Lately, there has been a spike in social media influencers- reality stars, comedy skit makers, getting cast in major and cameo roles.
Although not completely new - AY Makun explored it as a marketing strategy with himself as a case study in his 2014 production debut '30 Days In Atlanta' and Toyin Abraham in her 2017 hit movie 'Alakada Reloaded' which had a predominantly non-actor cast, this trend is fast becoming a common industry practice.
The math behind it is straightforward. Casting influencers with a huge social following translates to reduced promotion cost.
According to Dotun (not real name), a Nollywood producer, "social media marketing has become very significant during the promotion of a picture and having cast members with huge followers and very good engagement is a strategy that every producer must consider."
Asides from its promotional benefits, casting these influencers come with more perks. Comedy skit makers, for instance, have a decent understanding of filmmaking garnered from months and years of shooting and editing their content. Invariably, they do not require too much prep and can hold their own on a film set or so Jidekene Achufusi, 'Living In Bondage' star argues. "These skit makers understand what it means to make a film because they do this with their skits." The actor who is currently starred alongside Broda Shaggi in a forthcoming comedy further admitted that this standard could adversely affect the quality Nollywood's export.
"We really can't keep putting out below par performances on international movie space. Look at the fact that even the industry in America has not been threatened by the industry that social media influencers or skit makers have created for themselves. They are in no way a competition to the giant production companies. But locally, quality is defined as money. Whatever fetches you money goes," Achufusi added.
However, his initial argument carries no weight with reality stars whose only claim to acting titles spawn from a few weeks of living their best lives on television. The strategy with this class is to simply offer them cameo roles for twice the cost of casting professional but upcoming actors in a bid to exploit their fanbase.
In recent times, this strategy has taken a more refined and definitive route with filmmakers casting some skit makers in lead and supporting roles. Take Udoka Oyeka's yet to be released title 'The Razz Guy ' for instance. The comedy stars popular Instagram comedian Lasisi Elenu (Nosa Afolabi) in his debut lead role.
Ace director Kayode Kasum has also experimented with this strategy with his newly released 'Ponzi' that had Mr Macaroni (Debo Adebayo) and Broda Shaggi (Samuel Perry) in supporting roles.
According to Dotun, producers understand the limitations of this strategy so they cast these comedians strictly in comic roles.
"Most producers are conscious of the limitations in casting these performers in certain roles. They are mainly cast in roles that are very similar to their online persona and the majority of these roles are mostly featured. Only a handful have been given more significant roles but again nothing entirely out of what they are already familiar with."
With producers, reality stars and skit makers smiling to the bank from a mutually beneficial deal, no heed is paid to the disadvantaged group -upcoming actors. Filmone's head of production, Mimi Bartels understands how dicey this situation is. "I am sure more producers want to have more breakthrough roles but they have to look at their ROI which is why some producers prefer to back stars with already established names. It is a tough call all round cause we want to move the industry forward."
Regardless, upcoming actors bear the brunt of this trend with roles that could determine their big break going to non-actors. Desmond (not real name), an upcoming actor shared: "I think we the up and coming actors are the most grieved by this. I know that some Instagram comedians are professional stage actors but the problem is with reality stars who go to Big Brother then come out to become actors.
"As a trained actor, I thrive to become better but will not get the opportunity that these guys get just because they have a million followers.
"At the end of the day, it kills the craft. Some of our top actors cannot hold a candle to actors in say South Africa cause it becomes almost useless to hone your craft when the producers only care about the number of followers you have on Instagram. Also, the fact that they get treated better than actors who have put in years into their craft. Nobody cares!"
Aisha (not real name), an upcoming actor and Instagram skit maker revealed directors have advised that she grows her Instagram page as opposed to attending auditions. "Some of these people just want to be skit makers so they are easily their own director, producer but now bringing them on set, telling them what to do, could yield poor results. Invariably, this prioritization of Instagram following over skilled acting will affect the quality of Nollywood content."
However, some skit makers may finally be catching on to this trending strategy and have become tight-fisted with the visibility they offer or simply sign backend deals. A-list actors have also cashed in on the desperation of these filmmakers. It is one thing to cast them and another to get them to promote the movies that they are cast in.
Conclusively, all the parties involved can agree that this strategy provides only momentary satisfaction. Every industry requires a balance of commercial and art films and the prioritization of marketability over expertise will mean an inflow of below-par pictures. If we must someday rival other industries, even our comedies must become appealing to more than just a local audience.
JOIN OUR PULSE COMMUNITY!
Recommended articles
Toyin Abraham advises President Tinubu to avoid mistakes of predecessors
What to expect from Kunle Afolayan's new series, 'Anikulapo: Rise of the Spectre'
Go behind the scenes of 'Hijack 93: The Mad Men & The Aircraft'
Nigerian Idol S8: How to vote for your favourite contestants on the show
9 Nollywood titles coming out this June
Mercy Chinwo celebrates husband's birthday, calls him special gift from God
Rema's 'Calm Down' reaches new peak on Billboard Hot 100, closes in on African record
Nedu confesses to supporting cheating in marriage
African superstar Victoria Kimani returns with new single 'How I Do'