What Kanye West's 'Famous' video means
'Famous' is more than a sex degree of Kanye West. It is a metaphor of the voyeuristic nature of celebrity obsession in our time.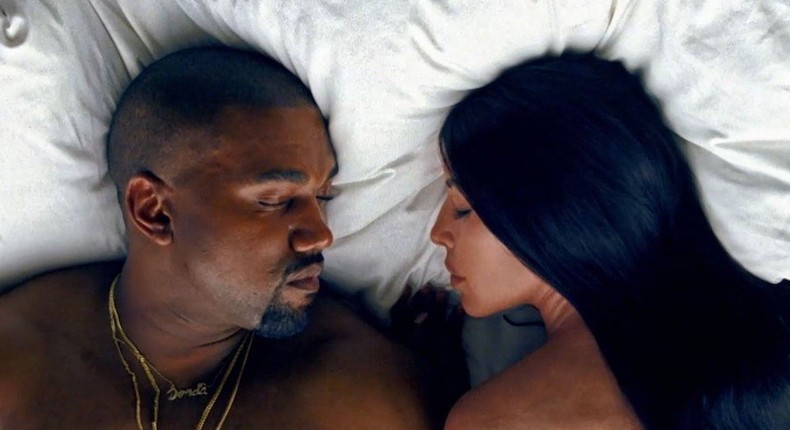 '
At the LA Forum which was host to thousands of people including members of his reality TV extended family Kanye West premiered what can be considered one of the most shocking music videos of all time.
In the visuals of the video we have a slew of celebrities;  George W. Bush, Donald Trump, Anna Wintour, Rihanna, Chris Brown, Taylor Swift, Kanye West, Kim Kardashian West, Ray J, Amber Rose, Caitlyn Jenner and Bill Cosby laying on the same bed nude.
As the ' Famous'  track played in the background, the famous people were filmed in a creepy eerie manner- a cellphone footage of a voyeur who broke into a mansion and stepped into the bedroom of the rich and famous.
Now before you run away with a conspiracy theory that the people in the video were real and they are sleeping with each other, know that the celebs in the video are actually wax replicas that seemed to breathe also.   The video was inspired by Vincent Desiderio's painting and the wax figures were inspired by Matthew Barney whose work on living sculptures in the movie ' '  is the stuff of legends.
Kanye West has gone on to explain what the video is really about. Speaking to Vanity Fair, Kanye West 'Famous' is "a comment on fame." This is the synopsis of the video- a comment on fame or as I prefer to say it is a portrayal of the 21st century voyeuristic culture.
Here is the breakdown about 'Famous'.  All the celebrities are nude and are sleeping on a bed. This represents the vulnerability of people who we exalt. Their nudity represents their true nature stripped of publicity, hype, rumours and plugged stories. Laying on the bed in their natural form these exalted stars are open and are comfortable in it. They are not ashamed to be naked in front of themselves because they are celebs and they know what it means to live most of their lives in front of the camera.
Unfortunately we the public are not content with seeing our celebrities just in public. We want to invade their privacy and see them natural, raw and unfiltered. That's why we creep into their personal lives to have a direct glimpse at them. We creep into their rooms and watch them with no clothes- stripped down to their essence.
We are voyeurs with our smart phones looking for a footage of Chris Brown with his daughter in his mansion, Rihanna kissing an unidentified man in Barbados, Amber Rose leaving the home of a basketball player at 2a.m, and Ray J being kicked out of his home by his girlfriend.
'Famous' video is a metaphor of the voyeuristic culture of human beings with regards to famous people and celebrity people. We are obsessed with these celebs that we use our celebs phones to capture, watch and dissect their most private moments. We are the creepy guy in the video recording Kanye West and co. when they are sleeping. That footage will be sold to TMZ and millions of us will watch it on our smart phones.
With the Internet, most celebrities no longer have a sanctuary. Even in their deepest chambers we are willing to get in there and see what they are alike behind close doors. This is what famous people in the 21st century go through- a round the clock scrutiny of their most private moments.
JOIN OUR PULSE COMMUNITY!
Recommended articles
BBNaija 7: My body is a temple, it was just aggressive kissing - Khalid on s*x in the house
'Bandana' spends 4th week at No. 1, Bella Shmurda's 'New Born Fela' moves to No. 10
BBNaija 7: I don't want my woman to work, I want a housewife not a career woman - Chizzy
1da Banton, Zlatan are unperturbed in new video for 'No Sleeping'
Goya Menor - 'Ameno Amapiano': The making of a Global Hit [Pulse Interview]
BBNaija 7: Live updates of 'Level Up' season (Week 4)
ARB and Goya Menor form a team for 'Advance Slavery' remix
Mdundo.com hits milestone of $1 million in payouts to rights owners across Africa
A$AP Rocky hit with assault and weapons charges over 2021 shooting