The music maverick's strange history with p*rn
Kanye West has more than obsession with porn. It has become his muse and inspiration.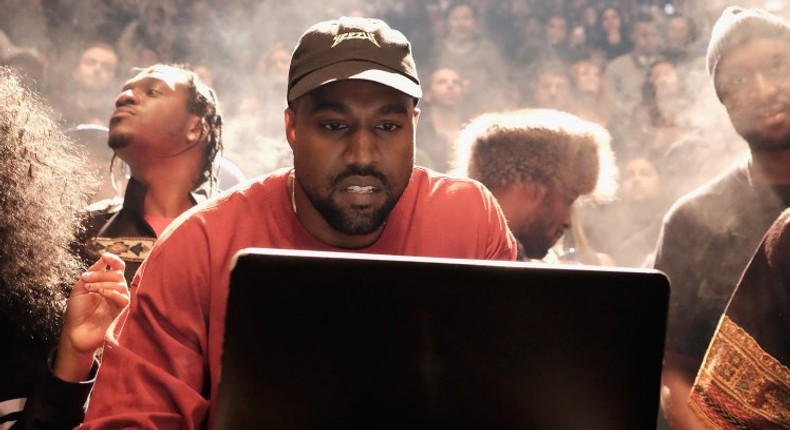 Multiple Grammy award winner
Crashing the stage at award ceremonies and ranting incoherently at the paparazzi, Kanye West has always marched to the beat of his own drum. He is never afraid to be himself and do things his way.
On the finale of the TV show '' Kanye West revealed that he watches porn with the volume off. He said this without batting an eyelid.
"I've never watched porn with the sound on. Well I lived with my mum in high school, then I lived in my mother-in-law's house. There's kids next door and stuff. I am all about the storyline" said Kanye West unabashedly. His wife Kim Kardashian West (who had a brief stint in porn) added "I like when they have good storylines."
This might sound bizarre or weird to you but if you have known Kanye West for a while this won't sound strange.
At the age of 12 when most kids back then were enjoying the latest Super Mario Bros. game the prodigy called Kanye West created his own game. Guess what the game was all about? Yeezy's game was about a giant penis fighting vaginas.
He has repeatedly admitted his fascination with porn started when he was in high school. As a matter of fact Kanye West once wanted to be a porn star. Early on his career when music wasn't paying off Kanye West thought about joining the flesh industry.
"That career choice popped into my head once or twice. Which guy doesn't want that? Just sometimes in their life. This was my mentality before I was engaged" said Kanye West. Thankfully he was persuaded to kill that ambition by his then girlfriend Alexis Phifer who he was engaged to at that time.
While he dropped that dream, porn has helped Kanye West create his emotionally charged songs which have made him a global phenomenon. During the making of his classic album '' which came out in 2010 it was said that Kanye West would watch porn flicks in the studio.
Nicki Minaj who featured on the album witnessed Kanye's obsession for porn. "...I go to the studio and he has nothing but pictures of naked women on his computer that he'd invite me to look at. They were really artsy pictures, but you know he loves nudity, so it was a complete shock to me, 'cause I thought I had him all figured out, but I didn't. He was watching porn when we were in the studio—no shame in his game" Nicki Minaj told Complex Magazine in 2010.
Kanye West is a porn actor on an amateur level. In 2012 before hooking up with Kim K, Kanye West made a sex tape with an unidentified woman who looks like his wife. Kanye has no problem with the 20 minute clip and he is proud of it. "At least I recorded the s*** myself. That tape couldn't have hurt me in any way if it came out—it could only have helped" Kanye told W Magazine in 2013.
For Kanye porn helps his creative process and his work ethic. "People ask me a lot about my drive. I think it comes from, like, having a sexual addiction at a really young age," he said.
"Look at the drive that people have to get sex—to dress like this and get a haircut and be in the club in the freezing cold at 3 A.M., the places they go to pick up a girl. If you can focus the energy into something valuable, put that into work ethic…" admitted Kanye West in an interview with Details in 2009.
During his blogging days between Graduation and '' Kanye would regularly post pictures (sometimes nude) photos of hot models. It was part of his creative process.
To each his own they say. Kanye West has found satisfaction with porn. It helps him create the amazing things he has created for the past decade. This is Kanye West's life- strange all the way.
JOIN OUR PULSE COMMUNITY!
Recommended articles
Ema Edosio's 2nd feature film 'Otiti' confirmed for Brazil premiere
60-year-old Tom Cruise hangs from a plane in new 'Mission Impossible 7' BTS
Gold Arinze-Umobi, Saheed Apanpa announce 2 star-studded Nollywood titles
Giannis Antetokounmpo and family team up with Burna Boy [Photos]
Burna Boy reveals Toni Braxton gets 60% royalty from his song 'Last Last'
Chioma Rowland, Venita Akpofure. Temisan Emmanuel, Uti and others walked the runway at the TECNO CAMON 19 launch
#PulseElection2023: 5 Nigerian celebrities that have been vocal about PVC registration
Ceeza Milli's 'Rated EP' is a comprehensive artistic display [Pulse Album Review]
Franklyn Billions shares new single, 'Paying My Bills'