Edo Governor accused of reckless spending
Ize-Iyamu said Governor Oshiomhole did not have any developmental plan for Edo state.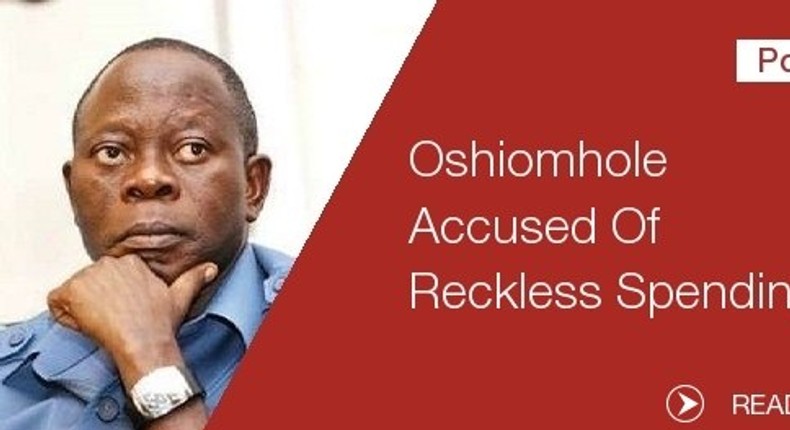 Ize-Iyamu also accused Oshiomhole of abandoning the cement factory that was started by former Governor Lucky Igbinedion.
He said the Governor did not have any developmental plan for Edo state.
Ize-Iyamu said "Today, even the market women and poor sachet water sellers are not left out of the multiple taxation of the Oshiomhole administration in Edo State.
"A state that rakes in over N2 billion internally generated revenue and over N3 billion from the Federation Account is not poor. What he is doing by his spate of borrowing is to mortgage the future of Edo people and children yet unborn into debts."
The PDP governorship aspirant also said "Recently, all of us were shocked when the governor came out of an executive council meeting to say that the former administration built a cement factory that was 35 per cent completed and that he would investigate same.
"This is a factory that was more than 90 per cent completed. Instead of completing it, the governor said he wanted to investigate it. Today, the factory is abandoned. We intend to change all that. The economy of our state must be diversified."
undefinedby the Samuel Adegboyega University, Ogwa, Edo State.
See Pulse Photo Gallery below.
............................................................................................
JOIN OUR PULSE COMMUNITY!
Recommended articles
Crowd of supporters receive APC Governorship candidate, Udofia in Uyo
Buhari will always be my friend - Tinubu
Smugglers responsible for fuel scarcity - FG breaks silence
JUST IN: Again, INEC extends PVCs collection by one week
Tinubu visits Buhari in Katsina after fuel scarcity, Naira redesign outburst
New currency: CBN allocates N120m to agents for disbursement in Katsina
Govt will eliminate chaos in currency swap - Buhari assures Nigerians
Pat Utomi urges INEC to extend PVCs collection deadline
Boat Operators organise victory walk for Tinubu, Sanwo-Olu in Lagos