Former president to meet with Buhari over arms deal fraud – Report
Some of Jonathan's associates are said to be arranging the meeting in order to allow the former president explain some things to Buhari.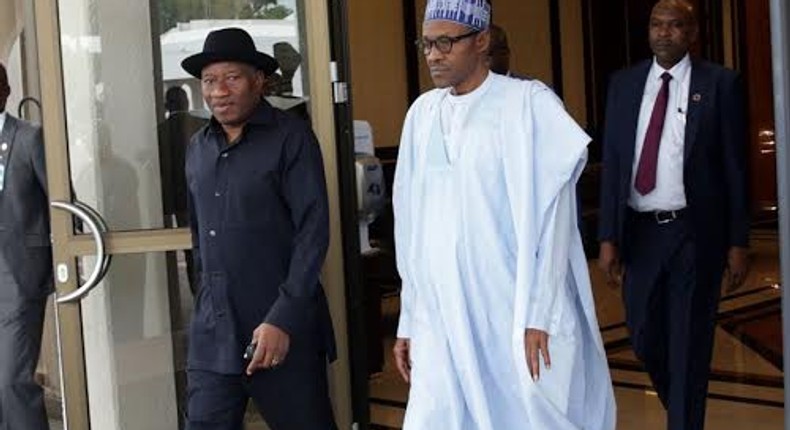 President Muhammadu Buhari might soon have a private meeting his predecessor, Goodluck Jonathan in order to discuss the ongoing arms deal probe.
Some of Jonathan's associates are said to be arranging the meeting in order to allow the former presidentexplain 'some things' to Buhari, The Nation reports.
Former National Security Adviser (NSA), Sambo Dasuki is at the fore of the investigations after being accused of laundering about $2 billion from Nigeria's coffers.
"Jonathan will prefer a private audience with the President rather than taking up issues with the suspects in public. Some of the expenditures have grave security implications as they involve some neighbouring countries," a source told The Nation.
"As a statesman, Jonathan cannot just open up at all. For example, there is a unit where the overhead of past Presidents and Heads of State was taken care of. Some of the funds disbursed by the office had to do with these funds. If Jonathan speaks, will he not rubbish these past leaders?
"Some Presidents from some countries sought financial assistance from ex-President Goodluck Jonathan. Do you expect the former leader to issue a statement on such a sensitive request?
"At a point, there was negotiation to end Boko Haram insurgency. This type of deal cannot be put in the public domain," the source added.
Dasuki is currently facing trialfor allegedly supervising the looting of the funds which were meant for the procurement of arms for Nigeria's military.
The former NSA was arrested by the Department of State Services (DSS) on December 1, 2015 and handed over to the Economic and Financial Crimes Commission (EFCC).
Buharihad ordered the arrest of Dasuki and others indicted in the alleged fraud after receiving a report submitted by a panel instituted by him to probe Nigeria's arms purchases from 2007-2015.
Dasuki's lawyer however denied the report that his client had become an informant while the former NSA said that Jonathan was aware of the transactions he had made.
Dasuki was charged to court on Monday, December 14, but pleaded not guilty to the allegations.
---------------------------------------
See Pulse Photo-News gallery below:
JOIN OUR PULSE COMMUNITY!
Recommended articles
Buhari greets Atiku Abubakar at 75
Gov Okowa charges Nigerians to be steadfast amid challenges
President Buhari deserves credit for tackling insecurity, says Garba Shehu
Adamawa records 149 rape cases in 10 months
El-Rufai restores telecoms services to bandit-infested areas
AIG approves dismissal, prosecution of policeman who killed 5 people in Enugu
Banditry: Kaduna govt orders restoration of telecoms services
Rising cost of cooking gas worries environment minister as more Nigerians turn to firewood cooking
FEMA warns public against taking pictures during rescue operations