Has Buhari secretly employed Obasanjo?
The frequency of Obasanjo's visits to the villa, and his obvious closeness to Buhari, has made it necessary to ask: Has the former president been secretly employed by the Presidency?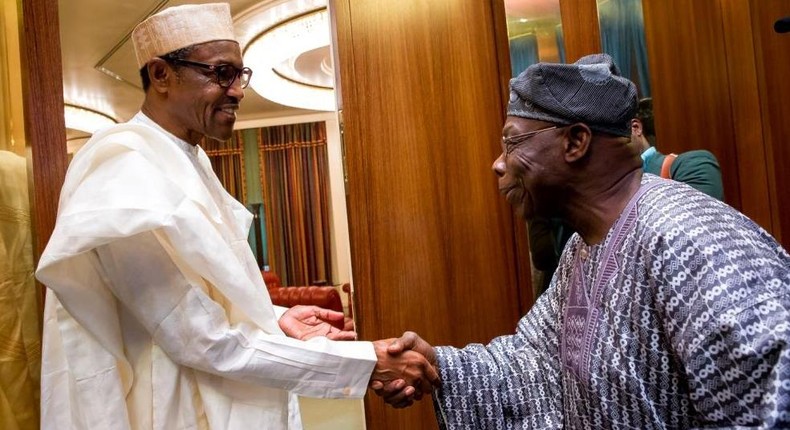 The April 7 meeting was the fourth one that Obasanjo and Buhari had held behind closed doors since the latter took office on May 29, 2015.
Buhari sent Obasanjo to mediate and help find a solution to the political crisis which was plaguing the West African country at the time.
"I sent President Olusegun Obasanjo because he is the only person living or dead that has ruled Nigeria for 11 years. I served under him as a military Head of State. He has a strong commitment to Nigeria and Africa," Buhari later explained via a statement released by his media aide, Femi Adesina.
"That was why I looked for him and asked him to collaborate with President Macky Sall of Senegal to stabilise the situation of Guinea Bissau," he said.
Obasanjo's recent visit to Borno State, which is at the heart of the Boko Haram insurgency, also suggests that he's on special assignment from the Presidency.
"Talking to the President (Buhari) about the issue of insurgency in particular and insecurity in general, I know that he is very, very concerned, and not only very concerned, he has got it right," the former president said while in Maiduguri on Monday, March 28, 2016.
"He (Buhari) has ensured that where they (Boko Haram) have occupied is cleared of any mines. Where you have mines, lives are not only insecure, people feel intimidated for you never know when you may step on them," he added.
---------------------------------------------------------------
See Pulse Photo-News gallery below:
JOIN OUR PULSE COMMUNITY!
Recommended articles
We're still owing 10,000 retirees N10bn pension outstanding- Lagos govt
INEC monitors security situation ahead Osun guber poll – Chairman
Soludo seeks foreign assistance for Anambra development
Osinbajo leaves for Accra ahead of ECOWAS summit
Labour Party gets new governorship candidate in Enugu
Ondo church kept kidnapped kids in basement for over 6 months - Group
2023 presidency: Ohanaeze president mourns injustice against Igbos
The wrath of God will befall anybody who blasphemes Jesus - Adeboye
Police rescue abducted kids in underground of Ondo church; pastor arrested