'APC is the real threat to national security,' Governor says
Fayose made the comment in response to a recent statement by the Ekiti APC which described him as a threat to national security.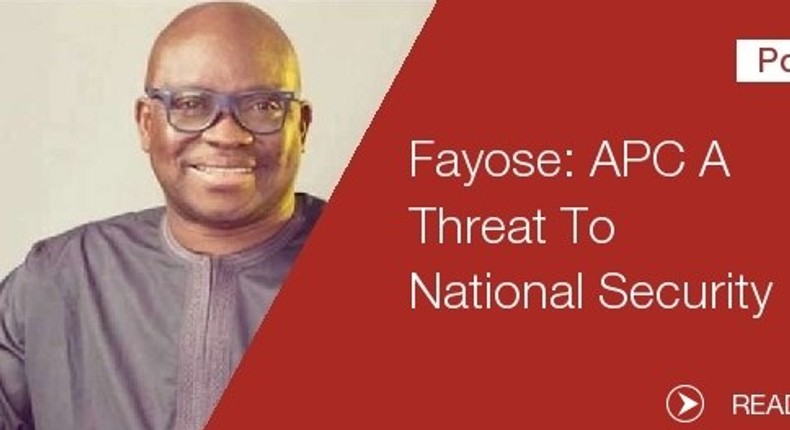 The governor's remarks were contained in a statement released by his media aide, Lere Olayinka.
"The major threat to national security is a party that lost election since June 21, 2014 and still trying to get back to power, using crude means including turning itself to the mouthpiece of the Department of State Services (DSS)."
"It is only in Nigeria that a party that ran Ekiti State aground in four years and was rejected in six straight elections by the people can still be talking. The question that Nigerians must ask the APC Spokesperson in Ekiti State, Taiwo Olatunbosun is whether he now doubles as the DSS spokesperson."
"In the last three weeks, everything the APC speculated that the DSS was going to do was exactly what the security agency did and that has reinforced the belief that the DSS was working in collaboration with the APC in Ekiti State to destabilise the Fayose-led government."
"It is also a fact that the chairman of APC in Ekiti State, Chief Jide Awe who is standing trial for murder was hosted to a dinner in the Presidential Villa while TKO Aluko on whose bench warrant was issued for alleged perjury is going about with armed security men."
"The APC leaders should ask themselves what result they have achieved since they started investing their money in this 'Fayose must go' agenda immediately after they were defeated in the entire 16 Local Councils in the State."
"Instead of lavishing millions of Naira on TKO Aluko and others, they should rather use such money to empower the remnants of their party members in Ekiti State who are in dire need of financial help."
Fayose had earlier also advised President Muhammadu Buhari to stop merely apologizing and instead take concrete steps towards solving Nigeria's problems.
----------------------------------------------------------
See Pulse Photo-News gallery below:
JOIN OUR PULSE COMMUNITY!
Recommended articles
Emefiele bows to pressure, says banks will accept old notes after February 10 deadline
FG records $1bn investment in automotive sector — minister
Obi's campaign director, others decamp to PDP in Bauchi
BREAKING: Finally, Emefiele appears before House of Reps committee
What a first-time voter should expect on election day
Banks indicted as EFCC goes after naira notes racketeers in Abuja
Akwa Ibom governor vows to ignore Bola Tinubu's abuses
Kwankwaso, most prepared for 2023 presidential election – NNPP chieftain
INEC urges registered voters to participate in Saturday's mock accreditation