Ekweremadu is overestimating his importance
Ekweremadu has been screaming and calling the attention of the world to his forgery trial saying that someone is trying to silence him.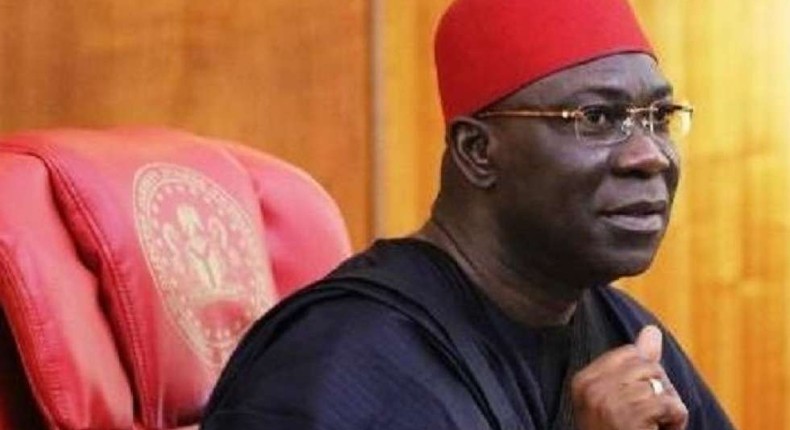 He made the allegations via a letter written to the United Nations (UN), United States, European Union (EU) and other international organisations.
The letter was dated June 28, 2016, and titled: 'Re: Trumped up charges against the presiding officers of the 8th Senate: Nigerian Democracy is in Grave Danger'
"I wish to forward to you the court summons containing the trumped up charges preferred against my person; the president of the senate, His Excellency, Senator Bukola Saraki, CON; and two others."
"The list of the accused persons appear to have been politically generated because you cannot by the documents attached, relate any of our names to the offence for which we are now being charged."
"Moreover, the rules and principles of fair hearing have not been adhered to because the police have not interacted with me or the president of the senate as at the time of writing this letter."
"You may also wish to judge for yourself whether this trial orchestrated against me is not a political trial, calculated to witch-hunt, barefaced intimidation, and a clear attempt to emasculate the parliament and silence me as the leader and highest ranking member of the opposition in Nigeria. This is for your information and reflection."
Ekweremadu's letter is nothing but a joke, and, if he truly sent it to the named organizations, he has only succeeded in embarrassing himself and the legislature as a whole.
The deputy senate president talks about the charges against him being trumped up, but isn't that what a court is for? A trial is an opportunity for both parties to tell their own sides of the story, it's not a conviction.
Instead of quietly submitting himself to the court process and proving his case, Ekweremadu is running helter skelter, issuing unnecessary statements and generally making a mountain out of a molehill.
"Let us make no mistake about this: it is not Senator Ike Ekweremadu or Senator Bukola Saraki or the other accused persons that are on trial; rather the hallowed democratic principles of separation of powers, rule of law, the legislature itself, and indeed democracy are on a ridiculous trial," he said released on Monday, June 27.
It's very amusing to see how Ekweremadu frequently equates himself with Nigeria's democracy. How, pray tell, has he contributed to our democracy? Did he fight for it? Is he even trying to preserve it?
This is the same person who wants to have a life pension after vacating office and also wants immunity from prosecution. This person who thinks himself to be above the average Nigerian and the country's laws is suddenly concerned about the sanctity of our democracy? Amazing indeed.
It would do Ekweremadu a world of good to focus on defending himself in court and proving that he is innocent instead of needlessly attempting to attract global attention to an unworthy cause.
Nigerians do not care about Ekweremadu, and frankly, neither does the world. The sooner he realizes this, the better for everyone.
JOIN OUR PULSE COMMUNITY!
Recommended articles
My presidential ambition is to change lives of Nigerians - Lawan
Medical Association confers award on Ngige
Buhari joins prayers for late UAE President
8 women die in Kogi road accident
Domestic airlines say flight prices may be increased to 100k
We must be willing to work with whoever emerges at primaries - Osinbajo
Pension savings withdrawals increase for the first time in five years
Buhari signs health insurance bill; what does this mean for the average Nigerian? [Explainer]
2023: PDP assures aspirants of peaceful, transparent primaries in A'Ibom