Minister condemns Ekiti Assembly over N40B fraud allegation
Ex-Ekiti Governor, Kayode Fayemi has damned the Ekiti State Assembly following their resolve to petition him over an alleged N40billion fraud.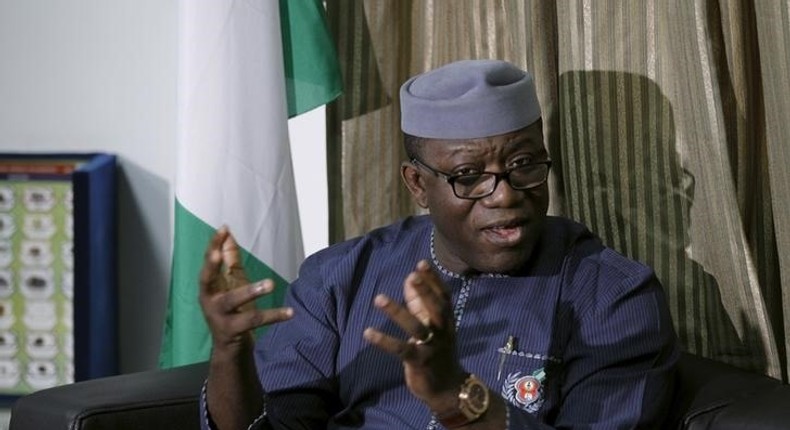 The Minister of Mines and Steel Development,
In a recent report, Fayemi said he won't be distracted by the childish and allegations of fraud levelled against his administration by the State House of Assembly.
In his reaction which was made public by a statement signed by Yinka Oyebode, the Special Assistant on Media, Fayemi said the state governor and the lawmakers had rehearsed their claims for two years.
"The petition by the Assembly is nothing but another calculated attempt to distract and tarnish the hard earned reputation of the honourable minister with spurious allegations.
"The Ekiti Assembly and indeed the Ayodele Fayose –led administration, had spent the last two years rehearsing and rehashing all manners of ridiculous allegations in their desperate effort to taint Dr Fayemi's reputation. As at last count they have come up with six different attempts, with varying degrees of falsehood," the statement said.
Continuing, Oyebode's statement said: "Dr Fayemi's four years meritorious service in Ekiti remains an open book. The administration's financial dealings and executed projects were well documented and copies of the documents are with the Assembly. We enjoin them to read the necessary portions and get the right answers to their puerile posers.
"But if their intention is to distract the Minister and paint him in corrupt garb, then they have failed, as Dr Fayemi cannot be distracted by the government's cheap blackmail.
"At this stage of our democracy, it is sad that a whole House of Assembly would be involved in what is known as Pull Him Down Syndrome. But the good news is that Ekiti people know the difference between those who serve them well and mere pretenders.
"Dr Fayemi remains focused on his current assignment of leading the economic diversification plan of the Federal Government through the mining sector and no ill-conceived machination can distract him. Finally the Fayose-led government is advised to concentrate on the provision of amenities in the state and desist from its maniacal penchant for falsehood and cheap blackmail," he concluded.
The Ekiti State Asembly recently submitted a petition to the Economic and Financial Crimes Commission (EFCC) alleging N40billion under the watch of the ex-governor.
JOIN OUR PULSE COMMUNITY!
Recommended articles
Peter Obi's camp replies 'Atiku's attack dog', Dino Melaye
China reaffirms commitment to sustaining cooperation with Africa
'I Just dey laff', El-rufai mocks Peter Obi 2m man match in Kaduna
This is our time and nobody is going to take it – Gov. Akeredolu
Monkeypox: Virologist urges government to acquire smallpox vaccines
Tinubu will continue from where President Buhari will stop – Nasarawa Speaker
Peter Obi thanks Nigerian youths for pushing the OBIdient movement
Ebonyi APC expels member for contesting Senate ticket with Gov Umahi
Customs intercepts 234 tonnes of fertiliser along Nigeria-Cameroon border