Here's how CJ Obasi created the breathtaking visuals in 'Mami Wata'
Creating this visually stunning movie required a specific camera, footage, and unique perspective.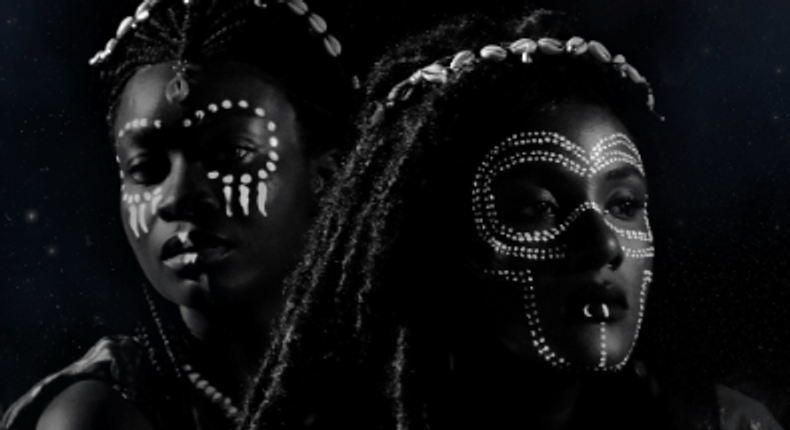 CJ 'Fiery' Obasi's Mami Wata has been making the rounds across cinemas and festivals across the world.
Wherever it goes, the movie receives critical acclaim for its breathtaking visuals, even winning a special jury prize for its striking cinematography at the Sundance Film Festival earlier this year.
Written and directed by Obasi with cinematography by Lílis Soares, this reimagination of West African mythology is exquisitely shot in black and white, with the costuming, hairstyling, and makeup done by Bunmi Demiola Fashina, Adefunke Olowu, and Campbell Precious Arebamen, respectively.
Speaking exclusively with Pulse, the award-winning director revealed some of his secrets for properly lighting black skin on film especially while shooting at night.
According to him, it all starts with having the right perspective before you can pick up the camera.
"It's a specific perspective that needed to change, and that perspective starts with how you see yourself first, and then with that change, you can now figure out how to do that with the camera and with the light," he stated. "It's a constant conversation. It's a constant conversation that you have to keep having with your cinematographer, and we had that conversation all through the entire shoot just to keep infusing those codes from scene to scene. It's a lot of work, but it was something that we felt needed to be done."
Obasi also spoke on the importance of having the right perspective as he referenced what is known as 'The Gaze'.
In his words, "The reason why we see white people—Americans and British—in a certain light is because we've been programmed over the years by cinema to see them that way. We haven't done that for Africans, at least not in the specific way that they have. That's what I had to become conscious of. So, when you watch Mami Wata, everybody looks like gods, and that, for me, is really what it's about. It's interesting you bring up Barry Jenkins and that particular show, Underground Railroad because while he was in production, we were also in production for Mami Wata. The Underground Railroad came out before ours, but when it came out, I had a conversation with my DOP, and this was the same conversation leading up to Mami Wata. Now it is called 'The Gaze' because it's about how you look at dark bodies and dark skin and how you portray them cinematically."
Moving on to the technical side, the director shed some light on the particular camera and footage used to create the captivating film.
"With this film, it had to be this particular camera; it had to be an Arri Alexa, and we had to shoot specifically on RAW, which is the footage that allows you to have more bandwidth in terms of what you can do post-production," he stated.
While this approach cost more, Obasi noted that it was worth it saying, "It's more expensive because normally if you are supposed to have two hard drives for your movie, you end up having 10 just to store everything, but what that allowed us to do was that by the time we got to post-production in Paris, the post-production technicians, from the editor to the person doing the colour grading, had so much raw footage to work with. So that at the front end, when they render it, you just have something that looks better than if we had done otherwise, which was an upside."
Mami Wata is currently showing in Nigerian theatres.
JOIN OUR PULSE COMMUNITY!
Recommended articles
It's been years of you ripping me —  Mr Real accuses D'banj
Ayoba and Boomplay announce cross-platform partnership
Some A-list artists will go hungry this December - Shallipopi's Official Dj
Wale Ojo & Genoveva Umeh on method acting, Nollywood & Amazon Prime's 'Breath of Life'
South-South rap star Dr. Barz excites on new single 'Dosa'
Spotify documents the resurgence of African gospel music
Rapper Kodak Black bursted for cocaine possession again, this time in Florida
Seyi Vibez shows artistic evolution on 'NAHAMciaga' EP [Review]
I converted to Islam out of love for my husband - Mercy Aigbe