Actress gushes over hubby marking 5th wedding anniversary
Nollywood actress, Mercy Johnson celebrates her 5th wedding anniversary with hubby, Prince Okojie, loving on him in a post she shared via her Instagram page.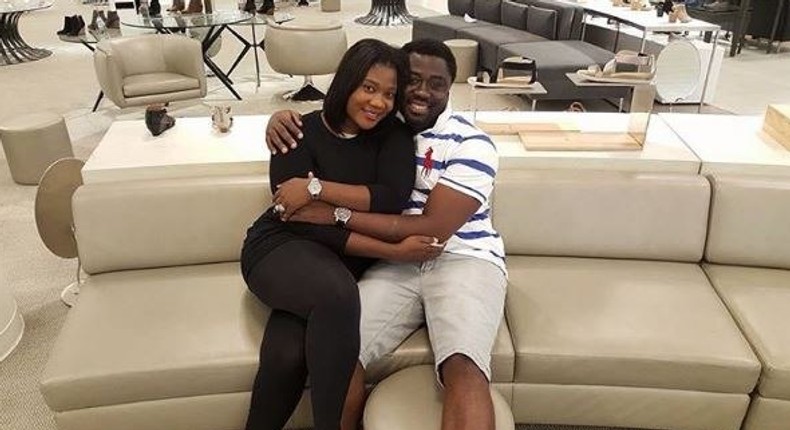 The Nollywood actress took to her Instagram page to gush over her husband, who has proved himself to be a very supportive partner on several occasions.
Sharing a loved-up photo of herself and her hubby, the mother-of-three wrote:
"Fate and time have stood as a witness to our love. You are in my heart like a prayer and the mention of ur name is my worship.
"With you thorns feel like flowers in my hands. The biggest risk in my life is spending a moment without u.
"Love bows to no one and needs no permission hence ur name is in my heart like a prayer.
"I love u babes,everyone is intoxicated by something but I am intoxicated by u, Ur my fantasy and my every imagination. I love u so much, my quarrelling partner, my gossip pal, my trusted friend, my secret keeper and lover.
"5yrs down, forever to go. Please Pray for me, my friends cus I adore him and with him is where I want to be.
"HWA My Hope#thankujesus#myGodisnotamanthatheshouldlie#mama3andreadytogoagain#"
Apart from waxing poetic as she expressed her feelings for her husband, Mercy stirred up more speculation that she might be ready for baby number four with the #mama3andreadytoagain.
Following the criticisms she faced after having her third child in four years, Mercy has revealed in a recent interview with Punch that the next one just might be on the way.
JOIN OUR PULSE COMMUNITY!
Recommended articles
'I didn't know we were rich till I turned 13' - Davido recounts parents' humble lifestyle
MARVEL: Spider-Man: No way from home breaks Avengers endgame record
DC: Batgirl begins filming!
Kanye West and Kim Kardashian spotted together at Virgil Abloh's tribute
Apple Music's year-end lists: artists, songs, albums and top songs and artists on Shazam
DC: Dwayne Johnson, Kevin Hart, Keanu Reeves and more are voice stars in DC's 'League of Super-Pets'
Watch Vampire Diaries star 'Nina Dobrev' in new historical romance drama 'Redeeming Love'
Seun Kuti shuns Gov Sanwo-Olu's 'walk of peace' plans
YouTube extends commitment to support African creators as Africa Creator Week kicks off