Reality star shares photos of colourful fitness closet
The reality star had taken her fans on a tour of her colour coordinated fitness walk-in closet, that simply has everything and more.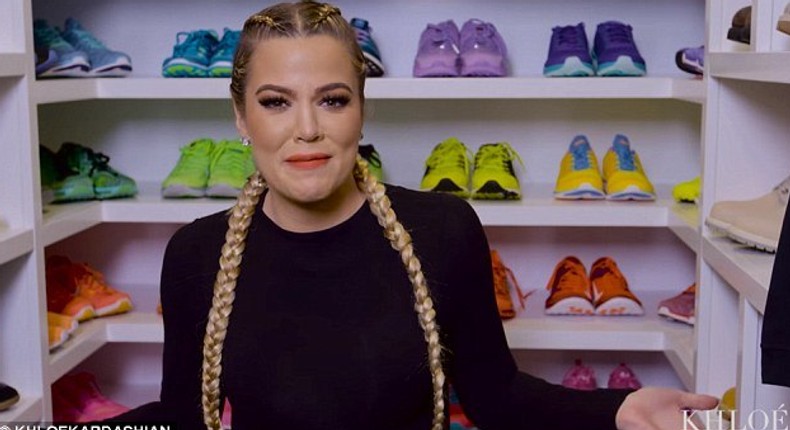 Khloe shared a video of her extensive closet via her website, KhloewithAK.com, yesterday, March 23, 2016, showing off her colourful outfits and foot wears, while warning fans to refrain from taking her photo at the gym.
Speaking during the visual tour, Khloe said:
"This is one of my favourite rooms of my house. Most people probably don't have a fitness closet, but you know what? I don't have a husband, so i have an extra closet!
"I like everything to fade into the next colour. I try to keep everything folded the same way.'I like to keep things in separate section, so everything has a home.'That's just how my mind works. This is how nuts I am."
The photos showed dozens of closets devoted to very specific fitness items, from sport bras to colourful head bands.
The 31-year-old who has long confessed to being a neat freak, showed off very impressive organisational skills especially for a celebrity.
If Khloe's fitness closet left you asking for more, her shoe closet with definitely mess with your feelings!
Watch the visual tour of Khloe Kardashian's extensive fitness closet below.
JOIN OUR PULSE COMMUNITY!
Recommended articles
Police Spokesman claims Iyanya can be arrested after shoving fan in Awka
'BBTitans': Sandra and Theo Traw evicted from Biggie's house
King Perryy drops new single, 'On God'
'All Na Vibes': Taiwo Egunjobi's young-adult drama frustrates more than it excites [Pulse Review]
M.I brings Vector, Ice Prince, Jesse Jagz to Festival in Jos
Future Sounds Vol.40 featuring Timi Dre, John Dreyz, Triipy, D Yong, Marvy and more
Actor IK Ogbonna's mum passes away
'BBTitans': Yemi and Miracle almost exchange blows over Khosi's matter
'Ijogbon': Here's your first look at Kunle Afolayan's new movie