APC says Senate President's case is worrisome
The statement alleged that the judiciary was giving in to blackmail from a section of the media by refusing to do their job as required by law.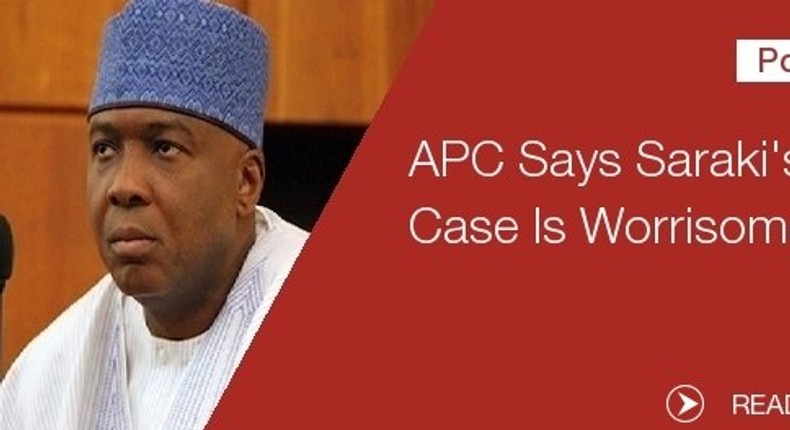 The Deputy National Publicity Secretary of the All Progressives Congress (APC), Mr
Frank said this in a statement signed by him and released to newsmen in Abuja on Friday.
According to the statement, Saraki's travails at the CCT were undeserved.
The statement said: ``I sincerely hold that the current trial of Saraki is not only underserved, but amounts to paying a good man with evil.
``I also want to say that the leaders of our great party have unfortunately remained quiet in the face of evil.
``I don't believe we have forgotten that the victory of the APC during the last general elections could not have been possible without courageous strategists like Saraki who lent their political weight in favour of the APC at the risk of their own lives and personal survival.
``I don't think we have forgotten how Saraki as a Senator in the 7th Senate brought the attention of Nigerians to the fraud perpetrated by the last administration in the name of fuel subsidy.
``I recall how Saraki led five other governors of the Peoples Democratic Party (PDP) into the APC - a development that successfully turned the political tide against the PDP and eventually tipped the electoral scale against them during the 2015 general elections.
``I don't think we have forgotten how Saraki led scores of Senators to cross over to the APC on the floor of the Senate,'' it said.
``Saraki has paid his dues at a time it was suicidal for anybody to stand up to the then ruling PDP.
``I believe it is time for all of us to act to save our party.
``It is time to rally round our generals who have fought valiantly and led us to victory. To abandon Saraki is to abandon a worthy comrade,'' it said.
JOIN OUR PULSE COMMUNITY!
Recommended articles
Emefiele bows to pressure, says banks will accept old notes after February 10 deadline
FG records $1bn investment in automotive sector — minister
Obi's campaign director, others decamp to PDP in Bauchi
BREAKING: Finally, Emefiele appears before House of Reps committee
What a first-time voter should expect on election day
Banks indicted as EFCC goes after naira notes racketeers in Abuja
Akwa Ibom governor vows to ignore Bola Tinubu's abuses
Kwankwaso, most prepared for 2023 presidential election – NNPP chieftain
INEC urges registered voters to participate in Saturday's mock accreditation