Top 3 candidates to watch and their chances of winning
Ondo votes on Saturday. We run the rule on the three front-runners in the race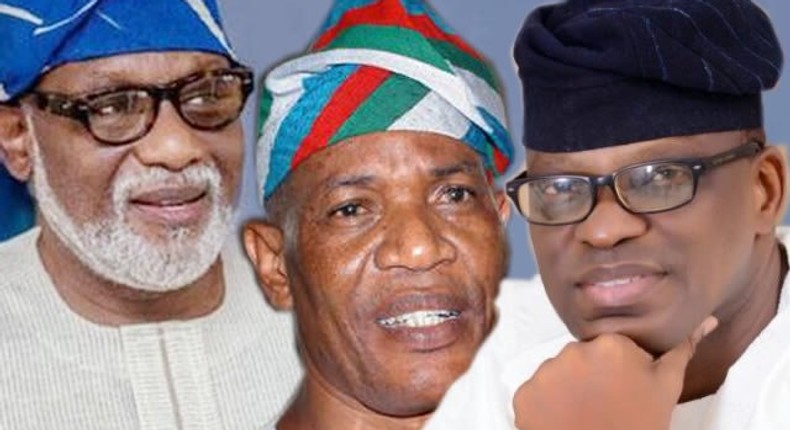 Ondo heads to the poll to elect a new Governor on Saturday, November 26, 2016.
There are 28 political parties on the ballot, but only one of the following three will succeed outgoing Governor Olusegun Mimiko.
takes you through the chances of Olusola Oke (AD), Rotimi Akeredolu (APC) and Eyitayo Jegede (PDP); in no particular order.
This 60-year-old lawyer has worked his socks off on the campaign trail like no other candidate.
He hails from Ilaje local government in Ondo.
Oke has plenty of grassroots support heading into this election.
It also won't hurt his chances that some APC chieftains--from Bourdillon to the social media space--are covertly or overtly rooting for him.
He has Ondo South Senatorial zone almost sewn up. Oke has been met with cheering crowds everywhere he's shown up during the campaigns.
However, the AD is a weaker platform when juxtaposed with the APC and PDP.
Oke dumped the APC for the AD after his governorship ambition had been frustrated in the latter, suggesting he's not one for ideology and stability.
He's a force to be reckoned with in this election, make no mistake.
With just two days to woo voters, Jegede has been left with a mountain to climb in this election.
His legal tussle with Jimoh Ibrahim robbed Jegede and his PDP of valuable campaign time.
The PDP couldn't resolve an internal crisis which stemmed from the legal battles between factional Chairmen Ahmed Makarfi and Ali Modu-Sheriff. As a result, Jegede comes into this election, badly prepared and shortchanged.
What may however go for him is that outgoing Governor Mimiko is a PDP member and in Nigeria, incumbents are really that powerful.
A lot of voters will also be voting based on political parties rather than personalities and Mimiko has made the PDP appealing to a cross-section of Ondo voters.
A Senior Advocate of Nigeria (SAN) blessed with some good looks, Jegede is not the most experienced of politicians out there.
He'll probably win the Akure township votes and hope for a couple of upsets in other local governments.
If he loses this election, it will be because his political party did its best to undermine him; up until the last minute.
Aketi (as he's fondly called) is another SAN in the governorship race.
He picked up the party ticket after a contentious primary election and was immediately disowned by APC godfather, Asiwaju Bola Ahmed Tinubu.
Aketi could win sympathy votes from persons who think he's been unfairly treated by the Asiwaju arm of the party.
The flip-side could be that Aketi heads into this election, not backed by a powerful bloc in his own political party.
Will President Buhari campaigning for him end up a baggage?
If voters want to make a switch from the PDP in Ondo, they'll probably be looking at the APC.
On that front, Aketi can look forward to winning this as much as anyone else out there.
JOIN OUR PULSE COMMUNITY!
Recommended articles
Troops bomb Boko Haram Commander, 27 others in Borno as bandits attack
2023: Nigeria's Presidency not about one religion – CAN
Our votes are against those who underrate Rivers state – Wike subs Atiku
Dariye, Nyame regain freedom, 4 months after Buhari's pardon
BREAKING: WAEC releases 2022 WASSCE results
You are a failure made by powerful politicians – Jandor replies Sanwo-Olu
El-Rufai and Atiku's spokesman in a mild political tweet-fight
Certificate Forgery Suit: APC to be served as Bola Tinubu remains unreachable
Court to hear 'certificate forgery' suit against Tinubu next month