I didn't endorse Obi - Ghana's President clears air on 'writing' Tinubu
... the relationship between Nigeria and Ghana has been topsy-turvy over the years...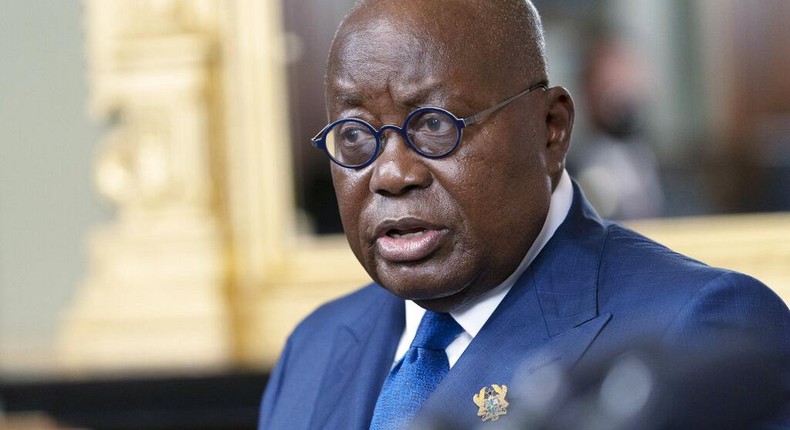 The President of Ghana, Nana Akufo-Addo, has openly debunked claims of his interference in Nigeria's politics.
What President Nana Akufo-Addo was accused of: He denied a post on Facebook which claimed that he advised the presidential candidate of the All Progressives Congress (APC), Asiwaju Bola Tinubu, to give his Labour Party counterpart, Peter Obi, a chance.
Nana Akufo-Addo response: In a Twitter post on Tuesday, August 08, 2022, Akufo-Addo labelled the information as false and mischievous.
The Ghana president made it clear he would never interfere in Nigeria's politics.
"My attention has been drawn to a disturbing post making the rounds on social media, where it is alleged I have written to the 2023 presidential candidate of the APC, Asiwaju Bola Tinubu, to 'give Peter Obi a chance and seek treatment for his health'.
"This is completely false and mischievous, with no iota of truth whatsoever in it," Akufo-Addo wrote.
He added that "Ghana and Nigeria boast of decades of cordial, strong and brotherly relations," and he is "not going to be the one to interfere in the internal affairs and politics of Nigeria."
The relationship between Nigeria and Ghana: Although rated as the two biggest economies in West Africa, the relationship between Nigeria and Ghana has been topsy-turvy over the years.
For more than five decades, Nigeria and Ghana have established bilateral relationships in line with mutual interest of both countries for their individual economic development agenda and shared prosperity for the West African region.
in sports, Nigeria versus Ghana is always contentious duel on any day regardless of what is at stake. Even a friendly does not douse the intensity both West African nations bring to the pitch. It is all or nothing. No football rivalry comes to close Jollof Derby in West Africa.
JOIN OUR PULSE COMMUNITY!
Recommended articles
NNPC declares ₦674 billion profit after tax for 2021
Meta: Nigeria sues Mark Zuckerberg's company, demands N30bn
NNPC profit hits N674bn in 2021
2023: Sokoto APC governorship candidate advocates free, fair polls
2023: Peter Obi alarms silent arrest of 'Obidients' by security agents
Lagos workers jubilate as Sanwo-Olu announces salary increase
BREAKING: PDP in last-minute peace talks with Wike
ASUU might be de-registered as FG approves CONUA as academic union
Buhari to present N19.76trn 2023 budget to National Assembly on Friday
Get our Top Stories delivered to your inbox