3 pensioners collapse on verification queue
"We are ready to reach all the Local governments in the state, we have started with Yenagoa; for those of them who are sick and cannot walk, we will definitely go to their houses," she said.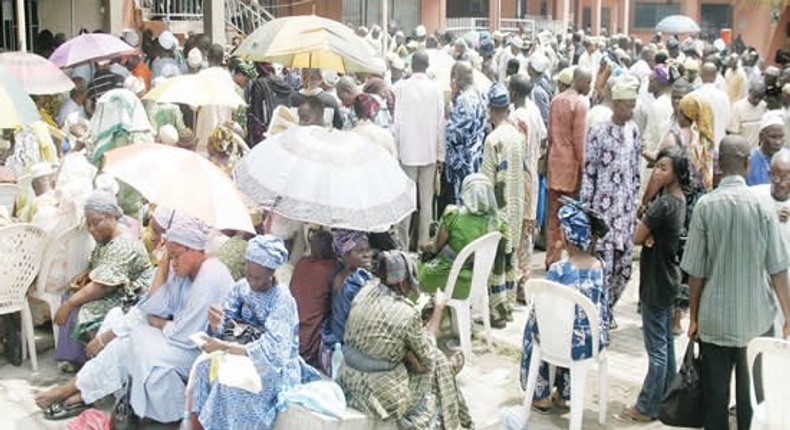 Three pensioners on Tuesday collapsed during a pension verification exercise in Yenagoa, Bayelsa.
Mrs Jane Aleke, Chairperson, Bayelsa Pensions Board, confirmed the incident to the News Agency of Nigeria (NAN). She told NAN that the pensioners had been rushed to the Government House Clinic, Yenagoa and were responding to medical treatment.
Aleke said the verification exercise was not meant to inconvenience the retirees but to enable the board to update its data on pensioners in the state. She appealed for calm among the retirees and assured that every pensioner would be captured in the exercise.
"This is about the management of wealth and you know in paying them, the state government cannot just begin to pay with guess work or estimated numbers; we cannot do that as a government.
NAN reports that some retirees participating in the exercise, which commenced on Monday, who spoke on condition of anonymity, described it as stressful and punitive.
The mostly-aged pensioners said the exercise was frustrating due to the trauma and unnecessary bureaucracy, urging the Bayelsa Government to introduce mechanisms to reduce their suffering.
Mr Daniel Ogobugha, a retiree, said he was not happy the way the verification was being conducted, saying that the exercise would have been good if they were verified and paid their arrears at the same time.
"Yes, we have been here since morning, many of our people have fainted, some critical ones have been rushed to the hospital; the government is helping but this exercise is very stressful to us.
"Most of us are aged, some can no longer walk but look at us all here for the verification; well, if it is the way to fish out fake pensioners, it is okay.
"But I must tell you that this is not particularly good due to the state of health of some of us.
"Some of us are being owed for over eight-months, we cannot pay our children's school fees with the current harsh economy and feeding has become a huge challenge to some families," Ogobugha said.
Mr Richard Epiri, another retiree, urged the state government to expedite action at settling their pension arrears.
JOIN OUR PULSE COMMUNITY!
Recommended articles
APC postpones screening of Tinubu, Osinbajo, other presidential aspirants
PDP primaries: I will wait as long as it takes – Banky W
Abductors reject N1m ransom offer; seize cleric, son in Ondo
PDP suspends primaries indefinitely in Imo
Tinubu pledges to establish agro industrial processing zone in Yobe
PDP primaries: Reps Minority Leader Elumelu wins ticket
NDLEA arrests ex-drug convict with 24 parcels of cocaine on arrival from Brazil
We'll reconcile Tinubu, Osinbajo, other APC aspirants after primaries - Adamu
Buhari returns from Abu Dhabi amidst Electoral Act confusion