Buhari doesn't know half of people he selected - First Lady
Aisha Buhari has said in her 25 years of marriage to Buhari, neither she nor the President know the members of his cabinet well enough.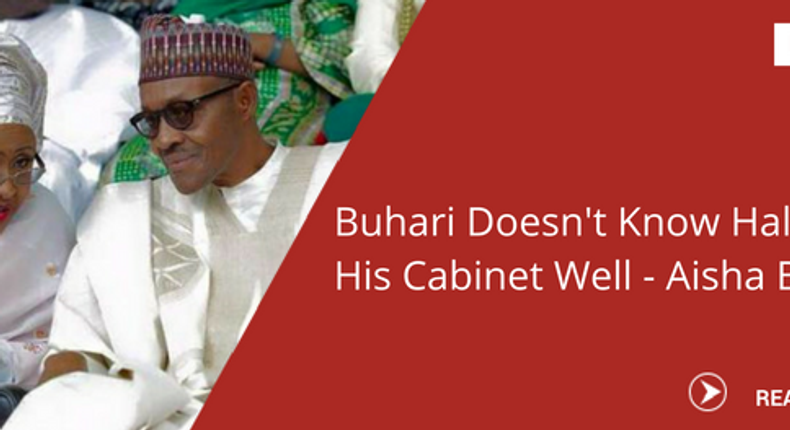 In a report by Daily Trust, the First Lady made this known during her interview with the Hausa Service of the BBC, which was partially aired on Tuesday, October 11, 2016.
Speaking on the individuals causing problems in her hubby's administration, she said: "Whether he knows or he doesn't know, those who voted for him know. There is nothing I will tell him. He can see. Among all the people he selected, if he is asked among 50 people, he doesn't know 45. I don't know them despite staying with him for 25 years."
Mrs Buhari also noted that she and the President are worried as many people have started creating division among the All Progressives Congress (APC) members.
The wife of the President said: "This worries us a lot now. Because they believe they are the ones who suffered, but are no where today. Those who didn't do anything who don't even have voters' card are the ones in position, doing everything. What I am afraid for them is the rebellion of 15 million people."
Mrs Buhari is opening up on happenings in her hubby's administration many weeks after she was accused of being involved in the messy Haliburton scandal by Ekiti State Governor, Ayo Fayose.
JOIN OUR PULSE COMMUNITY!
Recommended articles
My people want a Christian to emerge as Senate President  —  Gbenga Daniel
6 positive news stories from Nigeria in May 2023
Fuel prices will go down after removal of subsidy, says NNPC CEO Kyari
Niger governor sacks political appointees
5 Buhari appointees President Tinubu should retain
New Commander 12 Brigade seeks inter-agency collaboration to enhance security in Kogi
Enugu residents lament increase in transportation fares amidst fuel scarcity
MSport Football Challenge: Road to final 2023
BREAKING: We have not devalued naira to 680/USD - CBN denies report