Lil Kesh "Y.A.G.I" is a victory for the streets
Life on the street is filled with tales of hustle, love, wanton celebration and fights. Lil Kesh brings it all together on this album.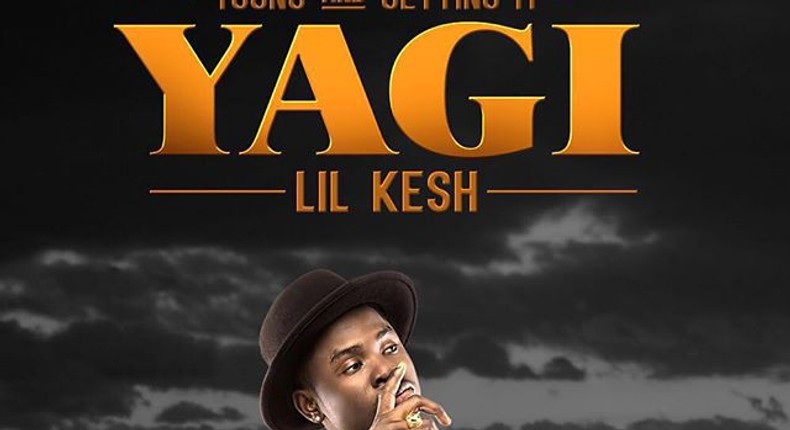 Album – "Y.A.G.I" (Young And Getting Up)
Producers – Pheelz, Young Jonn, Shizzi
Record Label – YBNL (2016)
Nigerian Hip-hop is divided along a lot of lines, with each fragment competing within and without, to impose itself on the limited attention span of pop culture consumers. When they compete within each other, they take the form of intra-subgenre needless comparisons such as ' is better than or ' has more influence than . When that competition happens against various cultures of rap, it becomes 'M.I has more flows than Olamide', or 'Lil Kesh works harder than .
Two cultures and styles that have emerged and on the outside, are seen to be completely against each other are the Indigenous and Westernized rap groups. M.I is the leader of one, and Olamide sits on the throne. At the moment, the latter is regarded as overall king, due to the massive acceptance of his rap. Lil Kesh, is just next in line, learning from King Baddo at YBNL Nation, and his guidance is proving instrumental in the creation of the next street king.
In many ways, this grooming is a good thing. From his signing in 2012 to his first hit song, Lil Kesh has been growing organically, on the merit of his songs. This is no artiste pumped with financial steroids and packaged as a construct for gullible Nigerians. This is the real deal, rapping his way through barriers and challenges. Before our eyes, he has become successful, with the instruments of that success benefitting each of us in our parties, clubs, celebrations, and victory lap dances. That's why this is different. That's why Lil Kesh is winning. He is "Y.A.G.I (Young And Getting It)".
19 tracks and brimming with the ubiquitous Yoruba language, Lil Kesh's "Y.A.G.I" album is a victory for the street. Life on the street is filled with tales of hustle, love, wanton celebration and fights. Lil Kesh starts off with the former. In fact, the entire work is hinged on tales of his hustle, and the success that come his way.
'Fuck shit up' is a fitting opener, an arrogant reminder of why he is the best on his level. He beats his chest and reminds everyone of his hustle, and why he is at this level. He also deals with the controversial Headies 2015 loss and how popular opinion resides in his corner, "Every single was a hit, fuck the award I don't care, Kesh is all about his cheese…They say Kesh is our next rated, f*** that, I think I am the best rated'. That same braggadocio wraps up this work in 'Lyrically', his first ever hit song. 'Ishe' appreciates his 'Baby', an affectionate term for his mother. 'Semilore' tells his come-up story with underlining talking drums and rattles. Here Kesh combines Fuji and rap to impressive effect. There are shades of these also in the introspective 'Igba Iponju', and the dance fiesta 'Jabo'.
Street fight and displays of machismo comes in as Lil Kesh brings on Ycee and Wale on two versions of 'Cause Trouble'. Fierce words are exchanged and bottles are smashed in the background of both songs. You get riled up, all of a sudden it seems cool to be violent. This is the way of the street. Trouble is second nature. Ycee and Wale truly have no business on this track. Lil Kesh's dynamism was sufficient. Wale struggles needlessly, and Ycee comes across as a cameo. You can still get this pugnacious vibe on 'Abija Wara', as Phyno and Chinko Ekun join the razz-matazz.
On thematic young and ghetto love, you get the hit song 'Is it because I love you', and the highly disappointing 'For you'. At this point, you get the feeling that low-tempo is not for Lil Kesh. He is most vulnerable to mediocrity when he lacks the verve that comes with increase in Beats Per Minute. He also flounders spectacularly on a failed country song 'Life of a star'. Even Adekunle Gold looks ordinary on that track.
Dance tracks are Lil Kesh's bread and butter, and that's why his singles all come with it as a bonus. 'Efejoku' still makes a strong case. But Olamide barely comes alive on 'Problem child', a direct sample of Drake's 'Energy'.
Lil Kesh stuck to the concept of being young and successful. Every song, becomes a piece of that big puzzle, each complementing the other and bringing out the bigger picture. In many ways, this is a journey through the life of a man who rose from the hood to riding through the hood.
Lil Kesh's first effort is a win for him, and for the street life. Here is one of ghetto's most loved exports, making it big with all the lessons learned from the hood. "Y.A.G.I" stands tall as one of the most relatable works from rappers. Unlike Olamide's already-earned king status, Lil Kesh is on the rise, embodying the spirit and effort of many of his fans who are still hoping for a better tomorrow. He hustles, he fights, he loves, and he celebrates. In a nutshell, that's what we are all about. We all hope to be young, old and still getting it.
JOIN OUR PULSE COMMUNITY!
Recommended articles
4 times Cross was the ultimate game master on 'BBNaija All Stars'
We built 38 sets from scratch for 'The Black Book' - Editi Effiong
How Editi Effiong delivered a global hit with 'The Black Book' [Exclusive]
BBNaija's Angel debunks rumours tagging her relationship with Soma as PR
Nigerian producer Hitsound kicks off attempt to set new Guinness World Record
Emerging star Roman Dc releases new single 'Moment' ahead of debut EP
4 intriguing highlights from Pere on 'BBNaija All Stars'
Here is what Funke Akindele has learned from her failed marriage
Rising act Noon Dave features South African star Pabi Cooper on 'Hillary' remix
I still love guys - Super Falcons' Michelle Alozie reacts to lesbian rumour
Heartbreak for Nigeria as AFCON 2027 bid slips away to East African rivals
Victor Boniface or Harry Kane: Who has had the better Bundesliga start?
Steph Curry: NBA star lists Nigeria's Burna Boy and WizKid among favorite music artists
Controversy as Super Falcons' Michelle Alozie unveils her 'female lover'
AFCON 2027: Algeria hands Nigeria a major boost
TikTok wahala: Osimhen deletes Napoli pictures from Instagram
Wilfred Ndidi: Style Essentials inspired by the Leicester City's Nigerian midfield maestro
TikTok trolling: Osimhen set to sue Napoli for serious damage