10 biggest celebrity flops of the year
See which Nigerian celebrity makes our 10 biggest celebrity flops of 2015 list.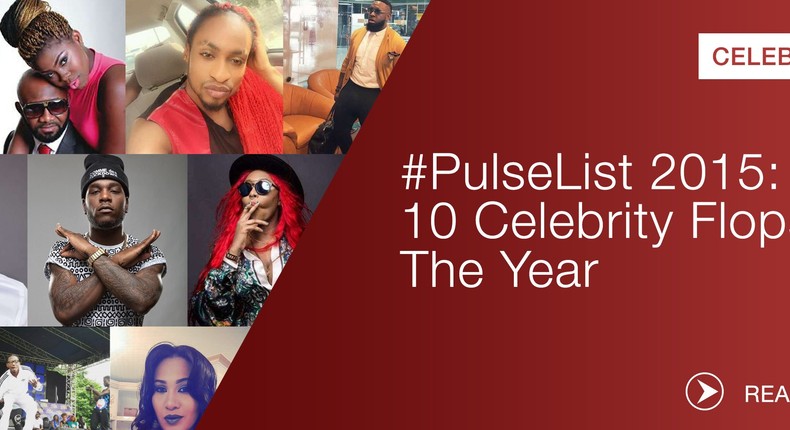 Which Nigerian celebrity pulled a stunt that backfired in 2015? Pulse has that covered.
In today's #Pulse2015 List, we have picked the ten celebrities who were caught pulling off the wrong move, or doing something that made them lose face in the eyes of the public.
Don't get this twisted with the most controversial celebrities of 2015. This list is reserved for celebs that pulled silly moves that backfired.
Dig in, this is promises to be another enjoyable list.
10) Caroline Danjuma: The Nollywood actress celebrated her birthday in June, and several sites reported that she turned 34 based off her year of birth on her Wikipedia page. The actress refuted these claims and said she is 28 years old. Interestingly her Wikipedia page was shut down when she gave us a 'new age'.
9) May D: In the month of August, May D was assaulted by police men at the Shop Rite mall in Alausa, Ikeja for using a hover board. Apparently no one told the singer that hover boards were not allowed there. He wailed on Twitter, but the blame was on him.
8) Moet Abebe: Early in March, Moet Abebe announced that she was engaged. The media took the story and ran with it. Unfortunately it was not true according to reports much later, but Moet Abebe never came out to say it was a hoax. Maybe she was embarrassed by her stunt gone bad.
7) Sean Tizzle: So this pop star was really bothered when Nigerians raved and raved about Adele's single 'Hello', and didn't shower praises on Omawumi for her solid cover of the song. Sean Tizzle's strangely said Omawumi deserved more praise than Adele for her rendition of 'Hello'. Naija Twitter had Sean Tizzle for breakfast because of his huge gaffe.
6) Burna Boy: The dancehall star does not like people writing trash about him. He has a zero tolerance concerning this issue. Burna Boy in May threatened to kill any blogger who wrote any bad story about him. We think Burna Boy took the bad boy image too far on this one.
5) Cynthia Morgan: Somehow Cynthia Morgan thought that carrying a baby and smoking in a picture was a good idea to promote her single. In October, the controversial picture by Cynthia Morgan caused a lot of stir on the Internet. At the end of the day, the verdict was that the picture was a bad idea from Cynthia Morgan.
4) Timaya: In July, Timaya was accused of rape by a woman named Shella B in Atlanta. The lady in question narrated her story online, and shared screenshots of her conversation with the singer after the alleged ugly incident. For a few days, there was a nasty and public back and forth between Timaya and the woman. After threatening to take legal and criminal action against Timaya, Shella B forgot about the incident.
3) Denrele Edun- Always one to stir up controversy, Denrele Edun announced himself as Nigeria's 'Caitlyn Jenner' this year with some disturbing lady like pictures of him. Denrele's latest public move got him trending for days. His Caitlyn Jenner stunt didn't get him a vote of confidence from Nigerians.
2) 2Shotz: Just before the year rounded up, wife of Nigerian rapper 2Shotz revealed stories of domestic and emotional abuse. His wife narrated how the rapper reportedly assaulted her, and once mistakenly slapped their daughter. In a year that domestic abuse has been a burning topic, this revelation did not do 2Shotz a world of good.
1) Skiibii: Of course this has to be our number one. Skiibii was the artiste who rose from the dead. News of Skiibii's premature death trended on social media, only for us to be told that it was a misinformation and Skiibii was recuperating in the hospital. Publicity stunt or not, a lot of Nigerians did not like how the whole Skiibii fiasco went down.
JOIN OUR PULSE COMMUNITY!
Recommended articles
Mo Abudu's EbonyLife partners with BBC studios to produce six-part heist thriller
Davido shares more information about disbursement of N250M orphanage fund
Blaqbonez reaffirms his position as one of Africa's finest pop star in new "Sex Over Love" deluxe album
DJ Neptune perfects 'Greatness' with '2.0' [Pulse Album Review]
5 facts to know about 'The Gravedigger's Wife'
Sound Sultan is immortalized on 'Journey Back Home,' by Bankulli and Tome
D'Nyra applies to be an 'Afro Lover' on new single featuring Tmaro
'If e easy do am' - Toke Makinwa says as she brags about her achievements
On 'The Second Wave' Ruger turns profanity never felt so religious [Pulse EP Review]