5 celebrities who found God
From Nigeria's bad boy, Lynxxx to eccentric media personality, Charly Boy, we clearly were not expecting this.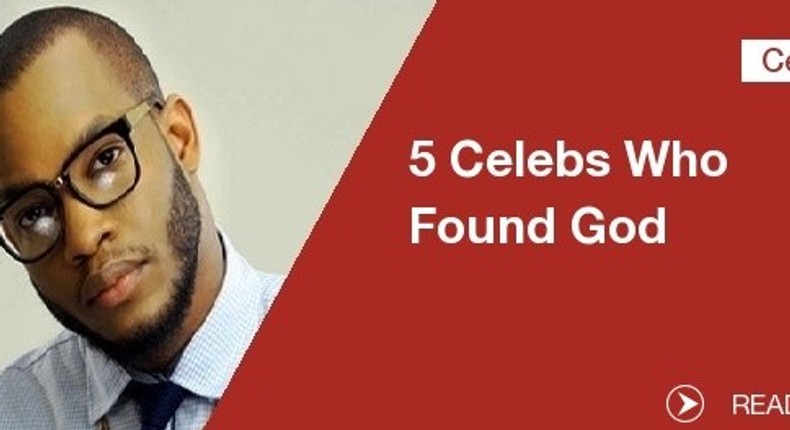 This year has witnessed some celebrities revealing theyve had life changing encounters with Christ.
Some claimed to have seen the error of their secular ways and publicly turned to God for solace while others continue to pursue God.
From Nigeria's bad boy, Lynxxx to eccentric media personality, Charly Boy, we clearly were not expecting this.
Below are five brief stories of celebrities who claim to have found God.
Nigeria's bad boy, Lynxxx has been the centre of controversy in recent times due to Instagram posts which hint that he is on a spiritual path.
Lynxxx has spoken on everything from premarital sex to plastic surgery leaving many wondering what led him to change his bad boy image.
The music star recently opened up on his new found spirituality during a recent appearance on Frankly Speaking With Jola Sotubo.
"I've played enough in my life, I've enjoyed enough in my life, I've done the wrong things enough in my life so it's time to really focus on the things that matter, things that will grow you and prosper you rather than things that will eventually bring you down," he said.
The Jollof Music act has released a new song, titled 'Serve you' which mirrors his new path and his determination to serve God.
This year Nollywood actress, Patience Ozokwor told the media how God spoke to her to be a voice for him all over the world.
According to her, the Lord revealed to her, how she will be a voice for him all over the world, how people's attention will be channeled from her image on Nollywood to the gospel during a fasting period.
According to her, one of the things God warned her on, was her dressing and appearance. She said that putting on makeup, wearing jewelry and putting on trouser as a lady is wrong she could have gone to hell, if she died in December 31, 2015 despite the preaching she's been doing, just because of her appearance.
From a man who dresses like a woman, says he has a female personality and has a snake for a pet, it was a really strange day when Charly Boy disclosed he has met christ.
The eccentric personality revealed he had an encounter with our Lord Jesus Christ. In Charly Boy's testimony he said that he following this encounter with Jesus Christ he had stopped some of his past antics which a lot of people deemed controversial.
Let's hope Charly Boy did meet Jesus and is not playing with fire.
On Monday, May 30, 2016 Ghanaian actor Majid Michel shared a photo on Instagram that got everyone talking.
The movie star  revealed he found God after believing for a long time that he doesn't exist.
According to him, his gazing at the sky brought about his new faith in Christ.
He said, "Lord God i have never spoken to you. But now i want to say...how do you do? You see God, they told me you didn't exist and like a fool i believed all this. Last night from standing outside, i saw your sky and i figured right then they had told me a lie. Had i taken time to see the things you made i'd have known they weren't calling a spade a spade. I wonder God if you'll take my hand. Somehow i feel that u'd understand. Funny i had to come to this hellish place before i had time to see your face. Well i guess there isn't much more to say but I'm sure glad God i met you today. Like the zero hour will soon be here but I'm not afraid since i know you are near . The signal... well...God I'll have to go. i like you lots i want you to know. Looks like this will be a horrible fight who knows, i may come to your house tonight. Though i wasn't friendly to you before i wonder God if U'll wait at your door. Look...I'm crying... i'm shedding tears i'll have to go now God, goodbye.... Strange...now, since i met you, I'm not afraid to die . #LEADERSHIP."
On November 30, the actress revealed that she had rededicated her life to Christ.
"I just want people to see christ in me, I don't even care if they know my name as long as they get to know my GOD," she said.
"I will share my testimony soon. HAVE YOU GIVEN YOUR LIFE TO JESUS CHRIST? Have you re-dedicated to him. Tomorrow might be too late, why don't you do it now. Go on your KNEES and talk to him and I am sure he will listen. JESUS loves you. #NEWBEGINNING #NEWLIFE #HOPEINCHRIST," she further wrote.
JOIN OUR PULSE COMMUNITY!
Recommended articles
Kourtney Kardashian changes last name to 'Barker' on Instagram
'Most of you date for survival and not love' - Nkechi Blessing's ex shades her on Instagram
Blossom Chukwujekwu shares more photos from his wedding
Beatrice and Boma face off in new BBNaija Reunion teaser
Banky W wins PDP house of representative primaries for Eti-Osa fed constituency
Tonto Dikeh mocks celebrities campaigning for politicians after supporting #EndSars
Everything you need to know about Boomplay #PassTheMic Cypher Challenge
Davido, CKay, Yemi Alade, others to perform at the 3rd edition of the Africa Day Concert
Obi Emelonye's 'Badamasi' returns to Amazon Prime following technical error