Britain's EU commissioner of finance resigns
European Commission President Jean-Claude Juncker said he had accepted Hill's decision with regret after failing to convince him to stay on.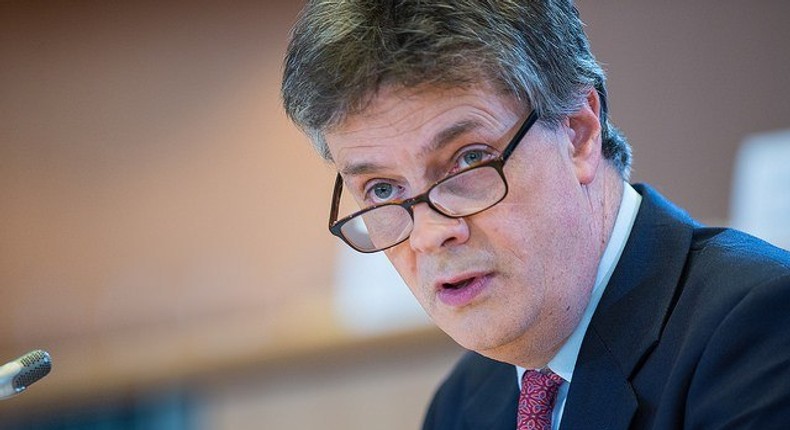 Britains representative on the EU executive in Brussels, Financial Services Commissioner
"I don't believe it is right that I should carry on as the British commissioner as though nothing had happened," Hill said in a statement a day after British voters backed Brexit in a referendum called by Prime Minister David Cameron.
European Commission President Jean-Claude Juncker said he had accepted Hill's decision with regret after failing to convince him to stay on. From July 16, the portfolio will be handled by Valdis Dombrovskis, the Latvian commissioner who, as vice president for the euro, already oversaw Hill's brief.
Hill had already faced calls in the EU parliament to give up the sensitive finance portfolio, which will be a focus of interest in exit negotiations between Brussels and London. He has had a key role in setting regulations that give Britain's huge banking sector access to euro zone markets.
Hill, 54, a lobbyist and Conservative leader in the upper house of parliament who has become a popular figure among EU colleagues in 18 months in Brussels, said he was disappointed by the vote and would ensure a handover before leaving on July 15.
Cameron himself announced his resignation on Friday. He may leave it to his successor as Conservative leader to nominate a new commissioner for the time remaining until Britain quits the EU. It may take until October to install a new prime minister.
Hill, a close ally and friend of Cameron, said: "I came to Brussels as someone who had campaigned against Britain joining the euro and who was sceptical about Europe. I will leave it certain that, despite its frustrations, our membership was good for our place in the world and good for our economy.
"But what is done cannot be undone and now we have to get on with making our new relationship with Europe work as well as possible."
As Latvian prime minister from 2009 to 2014, Dombrovskis, 44, took his country into the euro, and as a Commission vice president he has pushed hard to enforce EU budgetary rules on euro zone member states, including France, which have missed Commission targets.
As long as Britain remains an EU member it will continue to have a seat on the 28-strong Commission, giving Cameron, or more likely his successor, a right to nominate another commissioner.
The distribution of portfolios in the Commission is the job of its president, former Luxembourg premier Juncker, in negotiation with the leader of the member state nominating their commissioner. Other member states also have a say, and new commissioners must face hearings in the European Parliament.
Hill's appointment to the finance job in 2014 was seen as a peace offering from Juncker to Cameron, who had tried to block the Commission president's own appointment that year. It was viewed with some suspicion by euro zone bankers keen to challenge London's dominance as Europe's financial capital.
Juncker said on Saturday: "I wanted the British commissioner to be in charge of financial services, as a sign of my confidence in the United Kingdom's membership of the European Union. To my great regret, this situation is now changing.
"I have tried to convince Lord Hill to stay on as Commissioner. I consider him to be a true European and not just the British commissioner. However, I understand his decision."
JOIN OUR PULSE COMMUNITY!
Recommended articles
Angry youths disrupt PDP campaign in Delta, chase Elumelu away
Brain drain: Health workers resign daily, JUTH's CMD speaks out
FG recovers over N120bn from proceeds of crime – Lai Mohammed
Second Niger Bridge opens to traffic December 15 — FG
3 men docked for allegedly stealing a she-goat
Police commence investigation into shooting, abduction in Abuja
FG trains 60 master bakers on use of cassava flour in Edo
Auchi poly expels 40 students for result falsification
NJC orders reinstatement Justice Ofili-Ajumogobia