'I'm not returning to PDP,' Senate President says
Saraki said further that the rumours of his supposed return to the opposition party were started by "political adversaries who want to call a dog a bad name in order to hang it."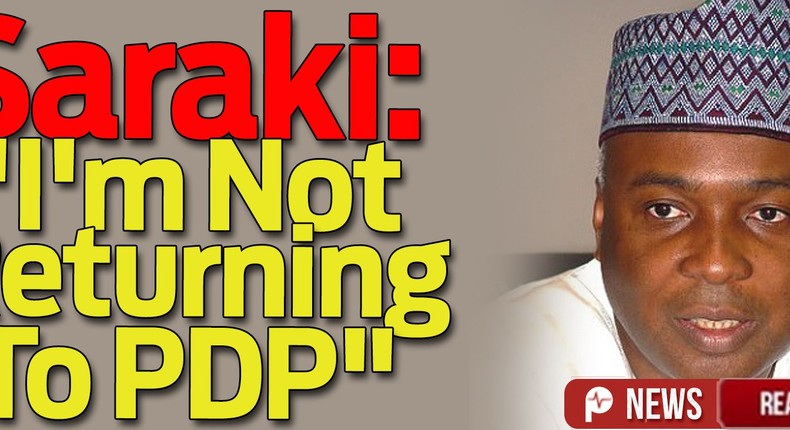 Senate President, Bukola Saraki has denied reports that he is planning to return to the Peoples Democratic Party (PDP).
This was contained in a statement released by the Senate President on Wednesday, June 10, 2015.
"It is just cheap blackmail by political adversaries who want to call a dog a bad name in order to hang it."
"And those making such desperate allegations should remember that I willingly left the PDP on matters of principles when the party was in power. Is it now that the party is out of government and in opposition that I will now return having worked so hard for my party in the last general elections?"
Saraki also affirmed his commitment to the APC, saying that he remains "a loyal party member and a leader of the party, committed to contributing my quota to building the party and helping it to deliver its promise of change to the people of Nigeria."
Rumours of Saraki's return to the PDP were started after he defied the leadership of the All Progressives Congress (APC) to contest for the Senate Presidency.
The APC had chosen Senator Ahmed Lawan as its sole candidate in a straw poll, a development which was rejected by Saraki.
JOIN OUR PULSE COMMUNITY!
Recommended articles
Sanwo-Olu advocates ₦7 trillion budget for 2024 to address infrastructural needs
Akinwumi Adesina urges African leaders to tackle brain drain
Court awards ₦50 million damages against Seyi Makinde, for unpaid debt
Ministry of Power to collaborate with states to enhance power supply
Benue House of Assembly commends Governor Alia amid APC crisis
IGP urged to immediately arrest Kwankwaso over alleged plot to destabilise nation
Social Democratic Party dismisses rumours of coalition against President Tinubu
CBN issues warning against counterfeit naira banknotes
CBN alerts Nigerians over counterfeit naira notes in circulation