Governor Rochas Okorocha presents N102.2bn budget to assembly
Tagged the Budget of Consolidation and Continuity, its breakdown shows that 43.1 per cent is for capital expenditure while 56.9 per cent is for recurrent expenditure.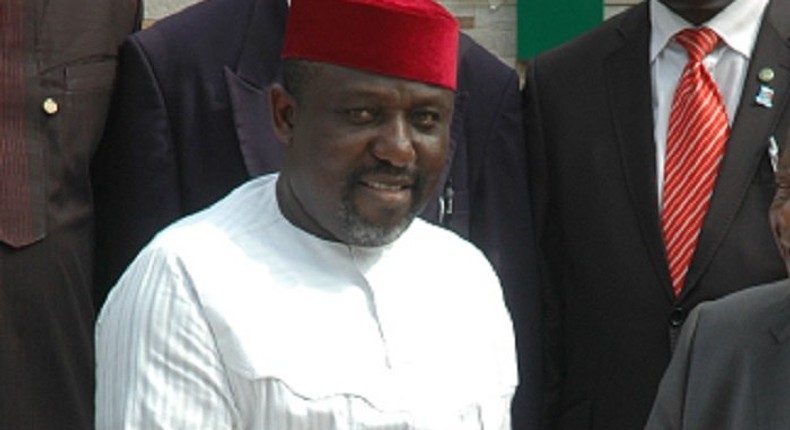 Governor Rochas Okorocha of Imo on Tuesday presented the 2016 appropriation of N102.2 billion to the state assembly for scrutiny.
Okorocha said that the budget was aimed at industrialising the state as well as creating jobs for the unemployed youths.
The governor explained that the state hoped to rake in N23.209 billion from the Federation Allocation, N17.458 billion to be generated from internally while N148 billion would come from excess crude account, among others.
He said the policy thrust of the budget was anchored on the completion of ongoing projects.
"Substantial provision will be channeled to the completion of ongoing projects while new ones of high priority will also receive attention in line with the state's medium term expenditure framework,'' he said.
Okorocha said that the 2016 budget would sustain the gains of the free education from primary to tertiary levels.
He added that industrialisation, healthcare delivery, agricultural development and infrastructure would be given more attention.
He said that with the current harsh economic situation in the country coming from the drop in oil revenue, the state's revenue would drastically reduce.
"It is logical that revenue will also reduce drastically in 2016. This calls for stringent measures to effectively manage government expenditure to reduce the shock arising from the reduction in the Federation Account,'' he said.
Okorocha, who reviewed the performance of the 2015 budget, said that the expected revenue of N122.31 billion was only realised to the tune of about 35 per cent.
"As at Sept. 30, the actual revenue realised was N32.96 billion representing 35.64 per cent proportionate performance,'' he said.
Receiving the proposal, the Speaker of the assembly, Mr Acho Ihim, assured the governor that the legislators would look at the estimate thoroughly and give it due attention and prompt passage.
JOIN OUR PULSE COMMUNITY!
Recommended articles
Nigerians react as Tinubu nominates El-Rufai, Alake others to answer questions in London
Yakubu Dogara returns to PDP after 864 days in APC
Here's how Peter Obi plans to deal with terrorism and banditry if elected
Tinubu speaks on controversy surrounding his certificate and date of birth
Tinubu aims dig at Arise TV, says they want to use him to make money
Adeleke threatens to sanction MDAs, starts payment of salaries
You live in Dubai, you don't really know Nigeria – FG slams Atiku
Tinubu arrives UK, to speak on presidential agenda at Chatham House
Fayose tells Lagosians to shun Atiku's Lagos rally