'I rejected N1bn bribe', minister says
The former Rivers State Governor disclosed this while he was speaking in Lagos on Tuesday, June 13, at a forum in Lagos.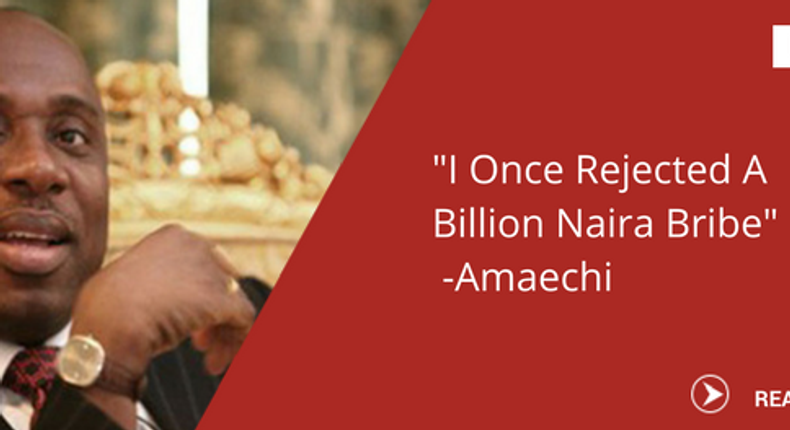 The Minister of Transportation, Rotimi Amaechi has revealed how he rejected a bribe of N1 billion years ago.
The minister said he rejected the bribe as a result of his principled objection to corruption over his twenty years of public service.
He said, "My first confrontation with bribe was with a big contractor in Rivers State. After awarding the contract, he brought a billion naira. I screamed.
"I asked, 'Where did you get the money?' and he said from what he got (from the contract) and I said, 'Look, that means you overquoted the contract.'
"I said, 'The only reason you are giving me N1 billion was because if the contract was N32 billion, you made it N37 billion.'
"I have been special assistant to the governor for two years; Speaker, eight years; governor, eight years; minister nearly two years…that's nearly twenty years.
"So I know Nigerian politics well. Very, very well."
JOIN OUR PULSE COMMUNITY!
Recommended articles
Lagos dep governor wants Nigeria to charge foreign countries taking doctors
Atiku confident in court to help reclaim mandate from President Tinubu
Tribunal resumes hearing on Atiku's suit against Tinubu's victory
Melaye condemns violence in Kogi politics, calls FG to investigate Bello, Yakubu
National Orientation Agency caught sleeping amid fuel subsidy controversy
Tinubu will tansform fortunes of Nigeria, says Group
Fuel Subsidy: NLC is commited to Wednesday strike
Ogun Govt. orders investigation into student's killing
475 pilgrims depart Yola for Saudi Arabia for this year's Hajj