Fayose begs NLC to call off strike, insists 'no money to pay salaries'
The Nigeria Labour Congress (NLC) in the state declared an indefinite strike two weeks ago over unpaid five months salaries of workers.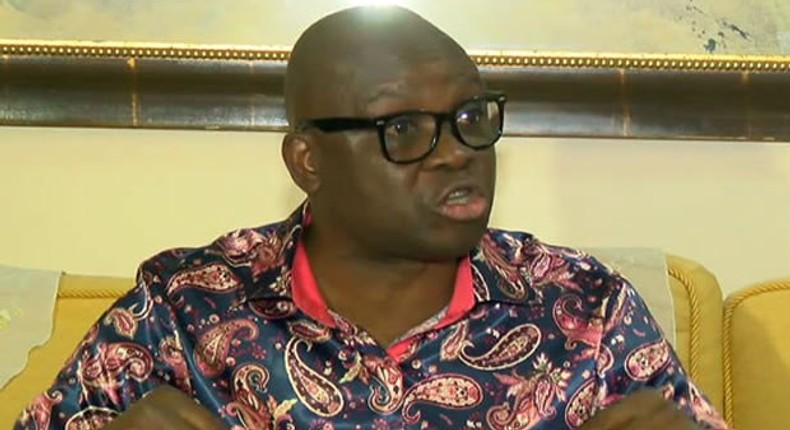 The Governor had made several appeals to the workers, begging them to call off the strike but the union did not yield, insisting on payment of their arrears before they can get back to work.
"I want to thank you for your patience, endurance so far in the face of this strike and our financial challenges," Fayose said during a statewide broadcast, according to his spokesman, Lere Olayinka.
He continued: "It is rather unfortunate that we are in this kind of situation, I want you to remember that I have always made you proud, I have always paid wages, salaries on the 22nd /23rd of every month. I have always done that which you can always remember, the effort put in place by my administration during the first tenure.
"I love you, it's not my joy; it's not my pleasure that you should continue on strike. It is not going to be in my interest for you to ask me for fish and I will give you stone, what I don't have, I can't give. I plead with you to see reasons and come back.
"Some people said Fayose claims he is on strike, yes, I said so jocularly and you know it because you made me a comrade and it is in the character of comrades to strike and jokingly I said to you to identify with you that I am equally on strike.
"Don't make a political statement out if it, what is important is the issue, the problem and we must deal with it, it is a different ball game if I have the money and I am not giving you. I plead with you to come back, I am still the same man you know. I will never sit on this seat and make you suffer."
Fayose, who described the strike as a political accused, his predecessor, Kayode Fayemi, of destroying the economy of the state.
"The APC should close their face in shame, how can you rule for four years and you destroy a state, you destroy the whole economy of that state for 20 years?" he said.
"I am not one governor that will come and lie to you, as it is the state is in financial mess. It is not easy for this government financially and I have always said this, I did not hide it from you. I went round the local government with the labour leaders in July and we all agreed that we should use two allocations to pay one salary. If you are using two months to pay one starting from September/October, we used September/October to pay September, we used November/December to pay October, we used January/February to pay November, we used March/April to pay December.
"The issue now is that as we were going on that journey, when we got to February the allocation dipped further, it was now ending in using three months allocation to pay one month salary, that made it impossible for us to pay certain levels of deductions in December. The question to ask the labour leaders is why did you wait till now to talk about these issues if you were not part of it.
"We need certain level of integrity to show that we are leaders of the people than to back out when we actually know we are part of it. What are the issues? What are the problems in Ekiti? They are two. The first problem is the dwindling economy, the money coming from Abuja is no longer coming, Ekiti earns about the least in Nigeria and secondly the debt profile of Ekiti as a result of mal-administration by the last administration where almost N1.2 billion is deducted from source.
"Parents are generally emotional, passionate about their children particularly their female wards but sometimes you are helpless as a father. Your daughter will be at home, she cannot go to school but you are helpless and I still want you to continue praying for Nigeria because in the next three months it may get tougher.
"It's not about the governor, it's about all of us, it is a selective solution we must look for. I am prepared to serve you, I am prepared to give my best, let us not be beclouded by our pains not to see the actual facts surrounding this state. Don't let anybody come in in the name of APC to deceive you. They have plunged this state into trouble, why should they take money beyond their administration?
"The internally generated revenue of Ekiti is collected from various areas by 13 banks and on the 1st and 2nd of every new month, they sweep it into one bank and this is done electronically. The governor cannot say help me remove this, help me remove that. No responsible governor or government will say bank, help me manipulate, because of how much? The size of the state determines your IGR, can you take water out of a dry toilet roll?
"Can you push the people beyond what they can do? I don't want to be here fooling Ekiti people, telling them the IGR is 600 million/700 million for reasons of arrogance and pride. No! These things are done electronically, there is freedom of information, you can Google it.
Fayose vowed that he did not misappropriate the state funds. He directed the workers to go to the state's office of the Accountant-General to confirm the IGR figures, noting that he would order the accountant to make the documents available to them.
JOIN OUR PULSE COMMUNITY!
Recommended articles
2023: Zamfara electorate ready to vote for APC – Chairman
2023 campaign: Tinubu appoints Gov. Masari, Wamako as campaign Senior Advisers
Nigeria re-elected ICAO council part 2 member
ASUU Strike: We are all pained — Edo Rep
The president has done so much for Nigerians — Rep Idahosa rates Buhari high on performance
Lagos Deputy Gov. warns Labour Party supporters against cheap tactics
After Atiku's meeting with Wike, aggrieved PDP governors plot to remove Ayu
#Obidatti rally in Lagos showed great numbers to put Obi's structure on display [Editor's Comment]
FG warns ASUU against disobeying court order
Get our Top Stories delivered to your inbox