Our smooth talker has gone mad again
Fani-Kayode often sells falsehood as gospel to his reading public. He's a living danger who should be stopped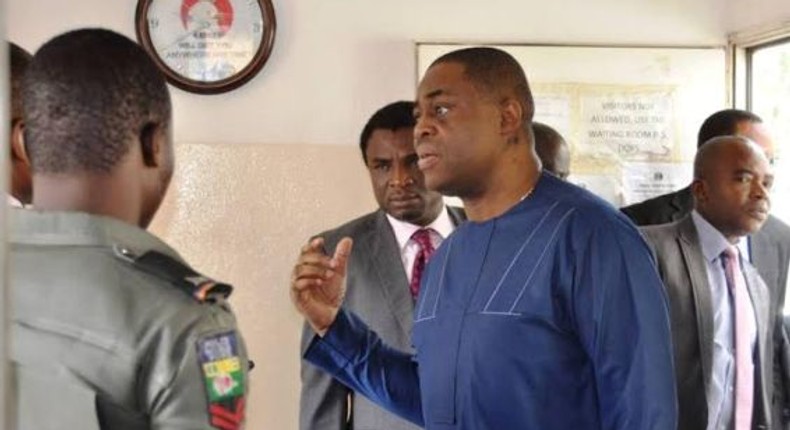 There are moments when it's perfectly okay to wonder what brand of weed Femi Fani-Kayode feasts on.
Moments like when he cited his past affairs with beautiful Igbo women as testament that he harbours no hatred toward their ethnic group.
Moments like when the former Aviation Minister churns out one hare-brained conspiracy theory after another to explain world events.
And moments like this week—when Fani-Kayode inexplicably compared leader of the Independent People Of Biafra (IPOB), Nnamdi Kanu, to Nnamdi Azikiwe and Odimegwu Ojukwu.
Fani-Kayode, who is facing charges bordering on money laundering, shared prison walls with Kanu and Boko Haram terrorists, by his own account.
The garrulous smooth talker recalls his prison meeting with Kanu in the following excerpts:
"When I went to visit the great and brilliant freedom fighter, Nnamdi Kanu, who is the leader of IPOB and easily the most courageous,  powerful and credible Igbo leader in Nigeria today, in his cell we had a very instructive and long discussion.
"I had never met Nnamdi before and I was amazed at his depth of knowledge, his immense courage and his deep convictions.
"There is no doubt in my mind that that man is going places and in him the Igbo have an Ojukwu and Nnamdi Azikiwe all rolled into one. He is destined for greatness.
"My Boko Haram friends accompanied me to that meeting, drew a ten man security cordon around me when we entered the general population of the prison and waited outside as Nnamdi and I spoke for almost three hours.
"They even accompanied me to Church on Sunday and waited outside until we finished".
Kanu is Ojukwu and Azikiwe rolled into one? Seriously, Fani-Kayode?
Kanu who incites hate and violence, who preaches bigotry and preys on people's resentment and fears, "is destined for greatness"?
Fani-Kayode pens a load of crap and tripe, week in, week out.
His latest detention for acts bordering on alleged corruption while he oversaw the media and publicity arm of the Goodluck Jonathan re-election campaign, will only make it worse for his reading public.
But we owe it a duty to the rest of the sane world to always call this dude  out when he turns facts on their head like he does in all of his essays.
Ojukwu had his flaws, but he was an ideologue. Kanu blows a lot of hot air, but is mentally deranged. Ojukwu had a sound mind and articulated his views as succinctly as possible, even though he often came across as a misguided warlord.
Kanu jabbers and is largely irrational.
Azikiwe was a nationalist; a unifying voice for all of Nigeria's geopolitical regions. Kanu preaches division and ethnic hatred. He is a gun-runner whose parents still can't explain what seized him.
Kanu can't walk in the shoes left by Azikiwe and Ojukwu, let alone fill them. He pursues an ideology that feeds off emptiness and utopia.
But we shouldn't be surprised by a Fani-Kayode who regards the likes of Donald Trump and Vladmir Putin as role models.
What we should be worried about is Fani-Kayode misinforming generations yet unborn and selling falsehood as gospel to a younger demographic.
JOIN OUR PULSE COMMUNITY!
Recommended articles
We're still owing 10,000 retirees N10bn pension outstanding- Lagos govt
INEC monitors security situation ahead Osun guber poll – Chairman
Soludo seeks foreign assistance for Anambra development
Osinbajo leaves for Accra ahead of ECOWAS summit
Labour Party gets new governorship candidate in Enugu
Ondo church kept kidnapped kids in basement for over 6 months - Group
2023 presidency: Ohanaeze president mourns injustice against Igbos
The wrath of God will befall anybody who blasphemes Jesus - Adeboye
Police rescue abducted kids in underground of Ondo church; pastor arrested