Crocs Nigeria brand ambassador Enioluwa shares his top tips for styling classic Crocs
#FeatureByCrocs - Crocs Nigeria Brand Ambassador Enioluwa shares his Top Tips for Styling Classic Crocs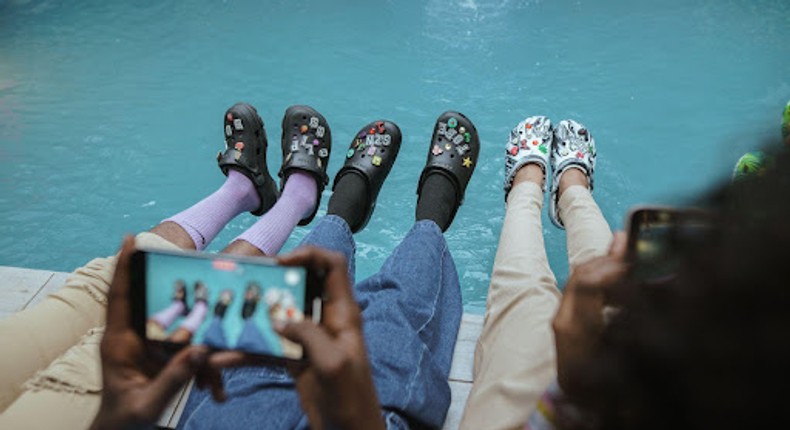 Our fans will agree that the Crocs Classic Collection is the heartbeat of our brand.
This season, we are celebrating the iconic styles that represent authenticity, individuality, and not to mention - comfort! Consider your Crocs a blank canvas for self-expression, and embrace what it means to truly Come As You Are.
Brand Ambassador, Enioluwa, shares his thoughts on the Classics Collection:
"The Classic Clogs are very lightweight, probably the most comfortable footwear you will have on. I live for comfort, and that is what stands out for me with my Crocs. I love that the Classics come in different colours - that gives me a wide range to pick from. So, whenever I think of style and comfort and ease, I am pointed towards my Classic Clog."
Pulse Nigeria
Not sure how to style your Classic Crocs? Follow Eni's footsteps for some style-spiration:
1: Where Sleek Meets Comfort
"When styling with Crocs, think comfortably sleek. With the vast colour range that Crocs has to offer, experiment with match-to-match outfits. It always works; the perfect all-white outfit with white Crocs to go, or an all-black outfit with black Crocs. For those that have a loud style, mix it up with confidence!"
"Your accessories are always a go-to for the perfect pair. I love to make sure my bags and Crocs complement each other. It shows preparedness, and that I made a conscious effort for my outfit. They may not be the same colours totally, but they match. It is always a great combo and a staple to your fit.
"You can try monochrome outfits with colourful, patterned Crocs. It is always a good note. But with Crocs, it's Come As You Are; be genuine to yourself and keep your style because we like you just as you are. Croc Croc....🐊 "
Pulse Nigeria
Pulse Nigeria
Pulse Nigeria
The Classic collection will continue to grow in 2022, with the range of silhouettes becoming larger than ever before. Just like our Jibbitz Charms™, each shoe in our Icon collection is an opportunity for self-expression.
Pulse Nigeria
We believe that comfort is the key to happiness and our legendary Crocs comfort makes the world a happier place, one pair of shoes at a time.
We are tireless in pursuit of new comfort technologies, developing revolutionary materials that are lighter, softer and more flexible than ever imagined.
Everyone should be comfortable in their own shoes.
In 2002, Crocs introduced the world to one of the most unique brands that anyone had ever seen: we were different, and it made some people uncomfortable. Now, hundreds of millions of shoes later, we make the world more comfortable.
Follow Crocs on social media for giveaways, product launches, and more:
Shop your Classic favourites here:
#FeaturedPost #FeatureByCrocs
JOIN OUR PULSE COMMUNITY!
Recommended articles
For women: 4 foreplay tips to drive men wild
5 people share awful and sometimes funny things their bosses have said to them
Ramadan: Six facts about the holy month for non-muslims
These are 5 top signs of fake love in a relationship
5 interesting health benefits of Agbalumo (African star apple)
The best 5 cities in Nigeria
The oldest woman ever to be on a Vogue magazine cover is a Filipino tattoo artist
Why your body suffers when you don't have regular s*x
6 reasons your nipples hurt
5 celebs with face cards that never declines and their makeup techniques
Chicken vs Turkey: Here are 3 nutritional differences
Is less actually more? Five benefits of a more minimalist life
Manchester United identify Portuguese goal-machine Goncalo Ramosas Osimhen alternative
Giannis Antetokounmpo outshines Jordan Nwora as Bucks set record against Pacers
NPFL Review: Rangers continue to flirt with relegation, 3SC vs Plateau produce another classic
Arsenal reach first Champions League semi-final in 9 years with victory over Bayern