Blaqbonez brought an end to the
Ever since the project dropped, the young rapper have been enjoying a warm response from music lovers online with the album working its way up to getting him the recognition he deserves.
Blaqbonez recently paid a visit to the Pulse office, where he discussed the new album, meeting MI Abaga and the situation with Adekunle Gold.
He shared the process of putting together the album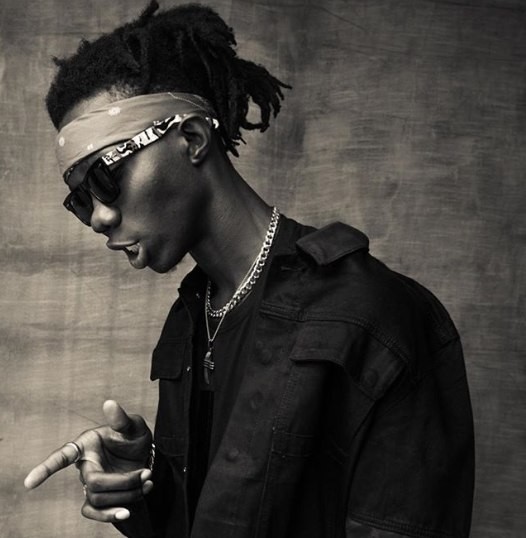 ''I started recording in February, I had the idea for what I wanted to do since last year, the earliest songs that made the album were recorded in February...
I recorded a lot of songs, so eventually when I was putting out the album, there were 20 tracks left, it is not like the other ten that didn't make the album were not good.
I felt like I had done a lot as regards rapping in the past, 'Bad Boy Blaq' is my seventh project, I have done a lot of rapping on the past projects, I just felt it is time to put rapping as not the most important thing, but making music, that is something that is sonically pleasing that people will enjoy.''
He says this decision is based on maturity and present trend, ''As much as possible, I want revenue, and for you to get revenue, you need to make music that cuts across a larger audience.''
On how he met MI Abaga
''I met MI at a show, Lafiaji concert, we met backstage and he called my name, it was surreal for me, I was a fan who had never met him and the first time meeting him, he already knew my name.
I think our relationship became a bit stronger during the time he dropped 'Fix Up Your Lives.''
Blaqbonez was one of the artists who recorded a response to MI's controversial single, 'Fix Up Your Lives' and he says his reply didn't affect their relationship.
''No, that was what he wanted when he released the song, he did not want to release it and everybody will sit down and be quiet.
Is the message actually true? Is South Africa killing us rap-wise, yes? Are our rappers doing enough? No, maybe it is the fault of the fans, fault of media or anyone else, but still, it is just the facts and I focused on the message, while others who recorded replies attacked the messenger.
I reminded him that I have held my own, I had dropped six projects, MI has been around 10 years he dropped eight projects, for me that I have been underground to drop seven projects [including Bad Boy Blaq], you know that I have put in a lot of work, that was the whole idea of my response.
I have been in the industry since 2011 when I dropped my first project, I have dropped a project every year since then.'' he stated.
He refuses to compare himself with any rapper out there, ''I don't see myself as better than the next guy when I listen to any rapper, I try to understand what the person has and what I can learn from that person.
Overtime after dropping all those numerous projects that people say 'you are the best rapper', I thought to myself, after dropping all these projects, I didn't blow, but these other rappers blow, so I had to talk to myself and in the last two years, I have made more progress than I ever made in my career, that old mentality has changed.''
He speaks on the album, ''Bad Boy Blaq''
On his favourite track, He chooses 'Consent', ''Because it [Consent] was new ground for me, it was the first song I sang 80%, it has this hold on me,'' he says.
''I have had conversations with people and the type of things people have told me made me feel like men don't respect women like they claim to.''
Another standout cut on the album is 'Mamiwater' and he is full of praise for the featured artist, Oxlade.
''Oxlade is an amazing guy, he is so talented that I feel like he can become even bigger than ''
''I have met a lot of singers, it is always two things, it's either they can sing vocally, or the other group that can't really sing but have melodies, and there is another group that has the street appeal, few people tick all three boxes, and Oxlade is one of them, so I heard what he did and we met up with and recorded the song.''
He also explains the inspiration behind 'Tosin Song', ''Tosin is somebody I knew six years ago, she was really dear to me and one of the best people I have met, this music industry is like cut-throat where you meet so many people and you are not sure if they really like you for you.
She was the person that kept me in check back then and made sure I read my books.''
Blaq closes up on the album saying, ''Bad Boy Blaq is what hip-hop has evolved to in 2018, I intend to make a Bad Boy Blaq re-up where I pick like five songs and make remixes, I have received verses already, the love for the album has been organic.''
He explains what transpired between him and Adekunle Gold
Shortly after the Bad Boy Blaq album dropped, Adekunle Gold was one of the celebrities who shared the song on his timeline and Blaqbonez narrates why it meant a lot to him.
''It made me appreciate the person Adekunle Gold is, coming up I started as a battle rapper on Facebook, when we write these lyrics, we don't expect that the next person takes it personally.
So I took that weird mentality into the game not realising that it is a different ball game here, when you diss somebody, the person is actually offended, for me it is sports, I failed to realise that it is not for other people.
So I carried about my business dropping punchlines for anybody that I feel messes up.
Adekunle Gold was the last person that I dissed, I had a good relationship with before then, when I tried calling her one day, I realised that I can't reach Simi again, then it dawned on me that this diss I made, it didn't just affect this person, this person is offended by it, at the end of the day, I just created a circle of people that are angry at me.
I respect him for being able to move on after what I did.'' he concluded.