It's time up for AMAA show of embarrassment
The 12th edition of AMAA seemed more like a star-studded movie premiere than the 'most prestigious film awards' night in Africa.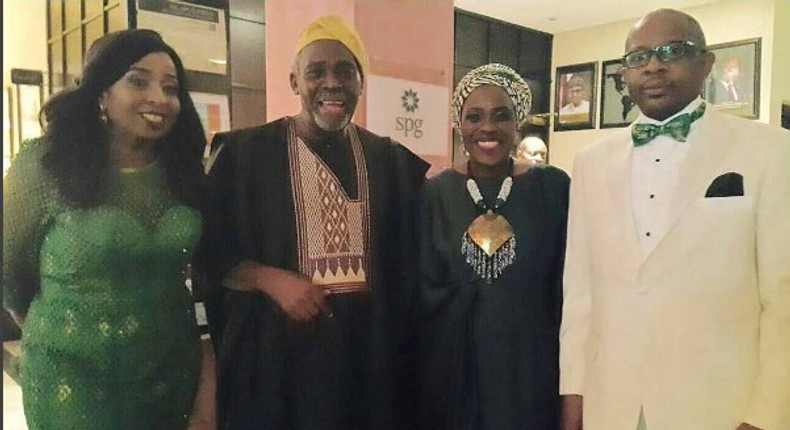 The 2016 and 12th edition of
Organisers of the movie calendar's most prestigious event were embarrassed by technical failures, which a press release or PR move may not salvage.
The awards night has been branded "lackluster" and "boring" by Tweeters, after performances, speeches and the ceremony itself failed to impress the supposed three billion viewers.
Before the big day, organisers of the event seemed desperate to prove their 'number one spot', hence the unnecessary response to critics comparing them to Africa Magic Viewers Choice Award.
The big day came, and its 'billion viewers' had expectations - some big, while some low. I simply wanted this to be the edition that would bring back the AMAA I had a little respect for seven years ago. I wanted an edition that would redeem an award show that has gone from good to bad, and racing to worse.
According to the letter released by founder of AMAA, Peace Anyiam Osigwe, undefinedSo, why didn't AMAA air on any Africa Magic channel? A channel available to movie lovers outside Nigeria.
Probably they saw no need for Africa Magic since they had plans to stream on YouTube. So let's talk about the YouTube streaming that was a total failure. The channel had no sound, constantly went 'offline,' and was a total waste of MB.
As usual, AMAA social media accounts were totally dispensable, as there were no updates an hour into the event proper.
There is always this anticipation that comes with the Oscars and AMVCAs - an anticipation that has nothing to do with the winners. People always want to know who will wear what and who. There is also this glamour that should come with an award platform that has been in existence for 12 years, and claims to be the best in Africa. The 12th edition lacked that glitz, and seemed more like a star-studded movie premiere than an awards night considered the second Academy Awards in the world.
It had a boring red carpet, with the nominees and very few actors in attendance. 60% of the attendees were nominees, whose trip was sponsored by the organizers. In an industry with over 500 actors, how many non nominees were in attendance?
In a recent chat with a veteran, she said the African Awards system could be better. According to her, the organisers are probably handing out the awards to the right people, but the they lack the needed following, glitz and glamour. The veteran further stated that she feels the awards don't carry everyone along.
Let's talk about following. AMAA is supposed to be the biggest night in the movie world, but it failed to trend on Twitter or any social media platform. This is  obviously because people are not interested in whatever they have to offer. It's rather embarrassing that an event like AMAA would happen without Africa feeling its impact or existence.
The event was interrupted by power outage for over 30 minutes. For an event that was graced by political figures of Senator David Mark, Governor Nyesom Wike, and Lia Mohammed, organisers of AMAA should be embarrassed. For 30 minutes, nothing happened. For 30 minutes, the social media accounts died. For 30 minutes, nobody considered the '30 billion' viewers important enough to get an explanation or apology for the embarrassing occurrence.
Should we talk about how the show changed names and movie titles? From Shaibu Hussein becoming Shuibu Amodu to "The Cursed One" becoming "Cursed One," someone did an unforgettable poor captioning job.
5. Let's talk about the hosts
We could talk about how bad hosts the were, or ignore that as it was probably the least negative thing about the show. It's one thing to sit through a boring show, it's worse when the hosts do nothing to make it better. At least we know what to expect when we see a caption like 'Mike Ezuruonye set to host awards.'
It's 12 years, and AMAA has gone from good to bad, continually hosting an award event in states totally inconvenient for industry practitioners, including president of major bodies in the Industry - as they were noticeably missing.
It's time AMAA took a break from delivering award ceremonies worse than movie premieres. It's time up for AMAA and its show of shame.
It's time for an award that is truly the most transparent Academy - based awards in Africa, and that platform is not Africa Movie Academy Awards.
AMAA is currently an event not recognised by Nigerians, and not appreciated by film practitioners in Africa.
JOIN OUR PULSE COMMUNITY!
Recommended articles
Wizkid previews unreleased song in Amsterdam
'My forthcoming album is going to feature a lot of music genres' veteran rapper Jesse Jagz says
Tears as gospel singer Osinachi Nwachukwu is laid to rest
Singer and Songwriter Chike gears up for his first concert in the UK
RoRo drops new single titled 'Run Away'
He dared me, the rest is history- Yoruba actor, Ogogo narrates fight with fan
Eniola Badmus disables comment section of her post after sharing photo of Bola Tinubu and wife
Top 10 albums released in the first half of 2022 [Pulse Picks]
Future Sounds Vol.13 featuring Show Some Moe, Musta4a, Bils, Bigfootinyourface and more