It's time for Stella Damasus to get paid
Nollywood actress Stella Damasus might find it a bit difficult to cash out on the negativity she receives online.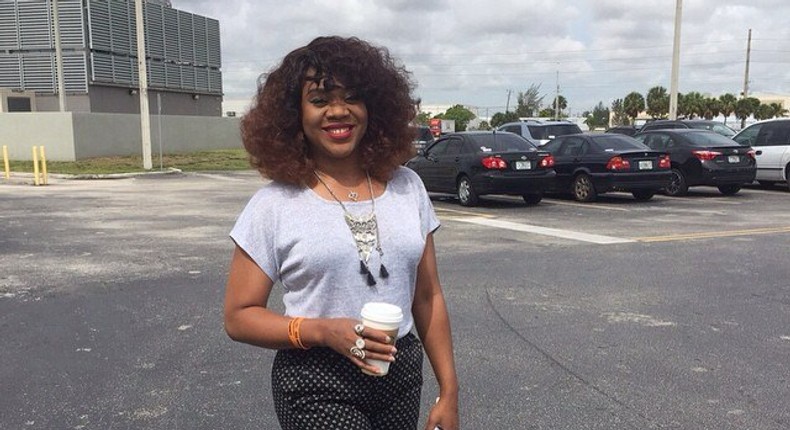 Good morning ye inhabitants of the Federal Republic of Nigeria. You people
When a tiny island nation like Fiji won gold at this year's games and a British athlete was crying his eyes out because he lost the gold medal and had to manage a silver medal, you fully come to terms that a nation as big as Nigeria loves mediocrity. The bronze medal celebration is a testament that we are not serious people in this country, plain and simple.
As for the players of the Under-23 squad, I am pretty sure that the reason why they were jubilating was the money the Japanese billionaire, Katsuya Takasu gave them. In this recession that we are in dollars is greater than a bronze medal.
The Olympics was an opportunity for these boys to cash out. Despite obstacles the Ministry of Sport and the Nigerian Football Federation placed in front of them, they succeeded in getting the monetary reward.
Unfortunately, the money wasn't from our government. It took a Japanese man to reward the hard work and sweat of our players. It just goes to show you that we don't reward hard work in this country. It's every man for himself in the Federal Republic.
It doesn't pay to be patriotic in Nigeria. I don't blame the athletes who denounced Nigeria and represented other countries in this Olympics. Wetin man go do? No Nigerian in his right senses would be expecting a handout from the government. In Nigeria, you are your own and you must devise your own means on how to cash out.
Speaking of cashing out Nollywood actress Stella Damasus is getting set to cash out. After being the subject of hate comments online, the talented actress/singer has decided to put a profitable spin on it.
On Thursday, August 18, 2016, the actress wrote "So my cousin sent me a message and told me how unhappy and sad she was to see horrible comments from people who don't even know me or know my story. All they know is what they have heard or read from others who wrote or talked based on what they also read or heard. My first response was.
"The truth is that I am loving it all. If you don't face a challenge in the things you are doing, how do you know the value of what you have?" on Instagram.
She further wrote "Another reason I am loving it is that for he first time in a long time I have seen more comments than ever. So all the brands I am looking to do business with have finally looked at my analytics and now they want to do more business with me. When life throws you a curve ball, you better catch it and score the best goal. So thanks to everyone who has made this possible. I love you all. If you can't control yourself please keep it coming, I need it for business. It is such a sweet thing to use your HATERS to make some QUICK MONEY."
You go, girl! Yes, use those haters who said you stole another woman's husband and make money off them. That's how you do it, flip hate into money just like Kim Kardashian.
Wait...Amber Rose once claimed that Kim K snatched Yeezy from her, didn't she? Well, that's not the point. The point is that Stella Damasus will use the hate you throw at her to make money. It sounds like a great plan. I'm sure brands will be lining up to associate themselves with her. Yeah, brands would like to work with her all the way in America when they didn't work with her when she was based in Nigeria.
Looking at this whole husband stealing (stale) allegations from another angle, have you noticed that Daniel Ademinokan doesn't get dragged on Instagram like Stella. The actress' critics have been adamant that she did something wrong when she hooked up with Ademinokan but absolve the man of any blame. Typical patriarchal behaviour.
Anyway, I can't wait to see Stella Damasus cashing out. If making money over the controversy is that easy then Toyin Aimakhu would be a billionaire. Shots not fired!
P.S rumours have it that Toke Makinwa is in love again...new vlog loading.
JOIN OUR PULSE COMMUNITY!
Recommended articles
Goodfellas star Ray Liotta dies at 67
Accelerate TV set to debut new sitcom 'Just Friends'
Watch Nigerian musician Falz score a goal at Old Trafford
"My Album will make history" - CKay makes bold claim about forthcoming album
Pulse List: 12 Nigerian heartbreak songs to help you through 'breakfast'
Check out photos from Ini Dima Okojie's bridal shower
Biodun Stephen's faith based film 'Joba' lands Amazon Prime release
Asake indicates no desire to slow down, teases new single, 'Peace Be Unto You'
Ireti Doyle recounts how Adesua Etomi stepped in when her daughter was bullied in school