Pop star stuns on the cover of US Vogue's April issue
The 27-yr-old currently on her ANTI tour was super sexy as she covered the magazine's latest edition, looking sultry in a multi-coloured sequin Tom Ford dress.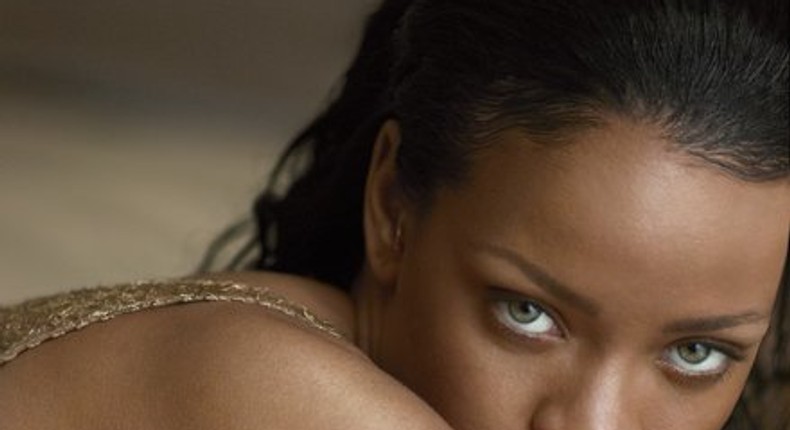 Riri stuck to a sequin theme for all her outfits for the cover feature, looking sultry and sexy through out.
The 'Work' singer talked her reasons for being single, blaming an increasingly choked schedule, as she is set to make bigger moves this year.
Speaking on her tight schedule and relationship, Rihanna said:
"I probably am going to have like four days of tour rehearsal in total, which is Freaking. Me. Out.
"My schedule is so crazy right now. It's definitely going to be a challenge when I do decide to pursue a relationship. . . but I have hope!
"I don't work out as much as I'd like to but my trainer Jamie is a beast and she makes me pay for it."
Speaking on latest hint single, 'Work', Rihanna explains that it is actually a nod to her home culture in Barbados.
The singer who is very close to her mother, Monica Braithwaite, who owns a a clothing boutique, used the word 'work in the song, so much so that the word almost lost its meaning, a tribute to her family background of hard workers.
Rihanna says about the hit song:
"You get what I'm saying, but it's not all the way perfect. Because that's how we speak in the Caribbean."
Speaking on low ticket sales, 'ANTI's' competition with Beyonce's 'Formation, which had suddenly been released the same week as her album, she says:
"Here's the deal. They just get so excited to feast on something that's negative. Something that's competitive. Something that's, you know, a rivalry. And that's just not what I wake up to. Because I can only do me. And nobody else is going to be able to do that."
All the same, this diva is let nothing slow her down as she has big plans set to follow her New York Fashion Week debut with Puma last February and the unveiling of her Manolo Blahnik collaboration, as there are whispers that she is set to release a line of Sunglasses with designer brand, Dior.
Watch Rihanna in 'Work' in Pulse video below.
JOIN OUR PULSE COMMUNITY!
Recommended articles
Police Spokesman claims Iyanya can be arrested after shoving fan in Awka
'BBTitans': Sandra and Theo Traw evicted from Biggie's house
King Perryy drops new single, 'On God'
'All Na Vibes': Taiwo Egunjobi's young-adult drama frustrates more than it excites [Pulse Review]
M.I brings Vector, Ice Prince, Jesse Jagz to Festival in Jos
Future Sounds Vol.40 featuring Timi Dre, John Dreyz, Triipy, D Yong, Marvy and more
Actor IK Ogbonna's mum passes away
'BBTitans': Yemi and Miracle almost exchange blows over Khosi's matter
'Ijogbon': Here's your first look at Kunle Afolayan's new movie