Seun Egbegbe, the ex that refuses to go away
Seun Egbegbe refuses not to shut up about his former lover Toyin Aimakhu in new interview.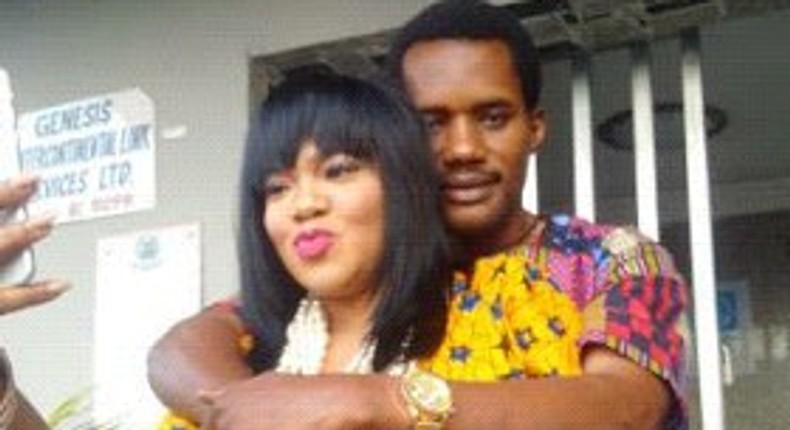 In an interview with
At the beginning of the clip, Seun Egbegbe unknowingly exposes Toyin Aimakhu by saying he is "happily married with 2 kids" while dating the star actress. The interview will make you wonder why Toyin Aimakhu dated the movie producer in the first place. His spoken English isn't good at all.
In the video interview Seun Egbegbe spoke about how he deals with all the hate on Instagram. "People said a lot on Instagram. People say good, some are saying bad about Seun Egbegbe but in life you have to calm yourself down. It's not all the matter they take to you or bring down to you, you must say something on."
Later on in the interview he spoke about the kidnapping accusation  and how it hurt him deeply. Once again he demanded that Toyin Aimakhu apologize about the rumours which affected him deeply.
"What I am standing on which I still repeat- she must definitely come out there and tell people the truth about what happened between both of us. She must come out there and let people know what really happened between both of us. I receive everyday many comments, insultive words from different people.
"For Toyin to go to that extent maybe she wants to gain something from it, I don't know. But what she did to me...I really don't know how to put it she really messed herself up" he said.
Seun Egbegbe is the ex that refuses to go away. He has practically gone on a media run to talk about her. Even though the kidnapping rumour must have hurt him he should move on and forget about him.
He should have stopped granting interviews by now. He is bringing focus to a story that makes him look like a loser. No one cares about his relationship with Toyin Aimakhu. It's over, let go.
As for Toyin Aimakhu this is what she gets for dating someone like Seun Egbegbe. It's good that she has ignored his statements in the press but he will be around for a while and he will be talking about her.
JOIN OUR PULSE COMMUNITY!
Recommended articles
Uche Maduagwu makes u-turn, says he is gay
Marvel comics to introduce new gay Spider-Man character
Precious Asuai & Tosin Oyalegan debut anthology film 'Something Special'
Yul Edochie offers to help homeless colleague Kenneth Aguba
Paul Okoye says the entertainment industry is the only sector making progress in Nigeria
Simi named as latest Spotify Equal Africa artist
DJ Tunez teases new single that features Wizkid
Binny Boy announces new project
10 Songs slept on in the first half of 2022