Banky W has had enough
After the incessant marriage comments and tweets directed at him, Banky W loses his cool about getting married.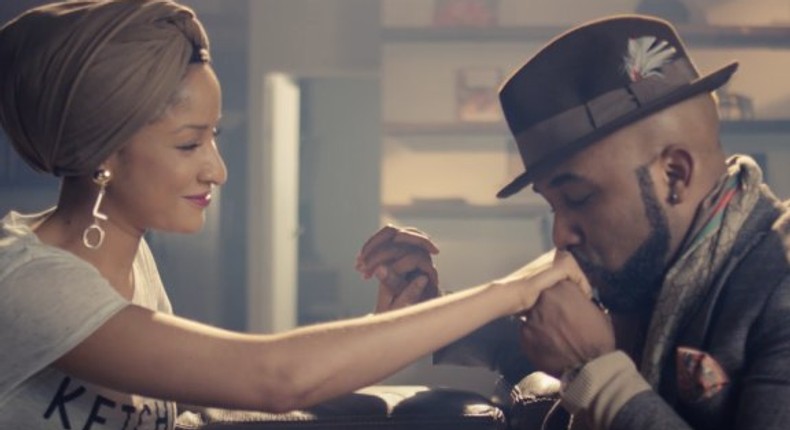 The cool, calm and collected (let's not forget smooth) R&B singer
After months of marriage shaming and marriage forcing the eligible bachelor Banky W could not help
The individual who made Banky W annoyed tweeted "I overheard you that you can't marry a normal person "A girl from a poor or low background" and further spiced it up with "If you truly said that, you are a big fool!!!" Ouch.
At this point Mr. Capable lost his cool and hit back with a nice jab. "I didn't.. But you're a bigger fool for jumping to conclusions, believing everything you hear & tweeting me this crap" fired Banky W.
Ladies and gentleman, Banky W has had it up to here with comments and tweets begging him, pleading him and bullying him to go and get married. For once he has cracked from the pressure which is rare for someone as calculative as Banky W.
On June 24, 2016 Banky W opened up and confessed he is tired of the marriage pressure. "These days...even if I post 'good morning', someone will say 'ok but it will be a better morning WHEN YOU MARRY'" tweeted the star after revealing the marriage shaming comments he gets regularly.
On the same day I wrote an opinion piece asking why we are marriage shaming Banky W.
"Let's stop the marriage shaming for a minute and try and understand Banky W's situation. Banky W is a celebrity and for male celebs it is very difficult for them to find women who are into them for who they truly are. Most women you see around male celebrities are into them because they are famous and rich. Many of them are not interested in knowing the real person behind all of the fame" I wrote in defence of Banky W.
For crying out loud Banky W is 35. People are making it seem he is in his late 40s. When it comes to marriage and settling down it's not about the right time but the right person. Like I wrote last week Banky W has not seen the right person.
Why are we infatuated with Banky W? He isn't the only eligible bachelor in the entertainment industry. What about rapper Ikechukwu or D'banj? I think because Banky W's friends are married and he looks really good in a suit the public is now fixated on his single status.
I am happy that Banky W lashed out yesterday. I won't be mad if he lashes out a bit more. If he was a woman people would have come to his defence and yelled that it is unfair to marriage shame. Unfortunately Banky W is a man.
Even though Banky W is sick and tired of being told to go and get married, he is using the attention to create content. He is presently working on a film that has him in a wedding suit. Well, a little bit off feeding off attention does not hurt anybody or his brand.
My advice to Banky W is this, enjoy your life and don't let anyone pressure you. If you crack under pressure and marry the wrong woman, it's the same people bullying you to get married now that will laugh at you when the marriage crashes.
JOIN OUR PULSE COMMUNITY!
Recommended articles
'Smart Money Woman' season 2 to begin filming in June [Exclusive]
BBNaija's Saskay gets Mercedes Benz car gift from fans on birthday
Kehinde Bankole reveals what it takes to be successful in Nollywood
Nollywood actor Leo Mezie is dead
Zadok, Progress emerge Top 2 Nigerian Idol finalists
'Bridgerton' season 3 takes surprising new twist, deviates from book order
AMVCA8 Trailblazer Teniola Aladese recounts getting tricked to attend award
Davido is standing strong in his newest single feat: The samples
On 'Loving You' Zinoleesky continues his fantastic musical run