Singer advises Presh to stop hating
Kcee has some words of advice for his former band mate on how to attain stardom.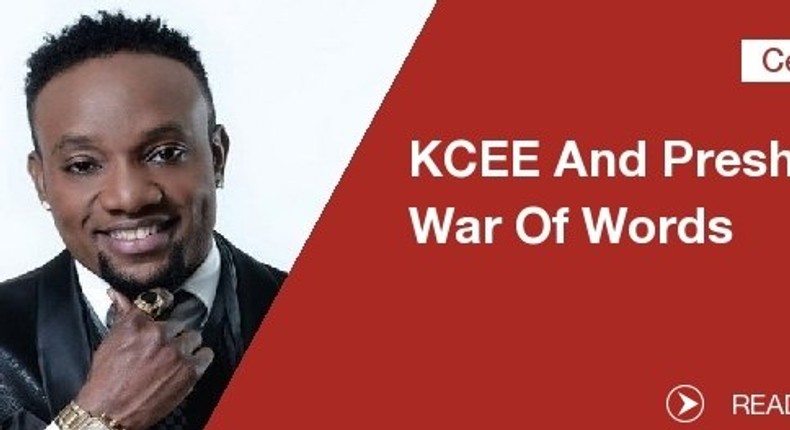 Its the epic season of celebrity beef! And this time, it's between Kcee and former bandmate, Phresh.
Recall that years ago the duo were part of a music group called Kcee Presh. They went their seperate ways a few years ago and Kcee went on to receive musical success as a solo artiste while Presh struggled with his career.
According to Naij, Kcee has some words of advice for his former band mate on how to attain stardom.
Kcee reveals Presh is full of hate and beef.
He said, "Presh's story is deep and emotional. It is long and I might not want to go too deep into it. I would just say that whatever that is happening to him is where he wants to be. He can't get out of where he is. There is no way you can eat your cake and have it. It's a proverb. I think he needs to see everybody around him as his brother. If you are hating, beefing, you are wasting your time. Invest that time into something positive, that is just the message.
He is my friend. If I tell you how I met him and how we started the group till we got to where we got to, it will take time. One thing I know for sure is that God will always pay you good for good. It might take time. Most of my peers that we started music with, I cannot even remember them because they are no more in the scene. I am not saying it because I have more talent than them but I think the little thing I'm doing, God is just blessing me. Presh needs to retrace his steps, pray to God, maybe he will get success."
According to him, his brother, E-Money gave him money to import furnitures from Dubai and eventually gave him the money to venture back into music.
JOIN OUR PULSE COMMUNITY!
Recommended articles
10 must see documentaries now streaming on Showmax
Zadok vs. Progress: Who will win Nigerian Idol Season 7?
Tha Boy Myles releases video for single 'Sugar'
Amstel Malta's fan reporters give scoop on #AMVCA8 experience
#HMSalone: Another great reality tv show in Africa to watch...
Future Sounds Vol.8 featuring Naya Akanji, Dtwins, Paybac Iboro, Idyl, and more
Watch the official trailer for Jennifer Lopez' 'Halftime' documentary
'Funke and my dad cheated on each other' - Funke Akindele's stepson continues to drag her on Instagram
Blossom Chukwujekwu's ex-wife Maureen Esisi reacts as he remarries