'Key evidence burnt in GTB,' Witness says
The witness said the documents were destroyed before the commencement of trial.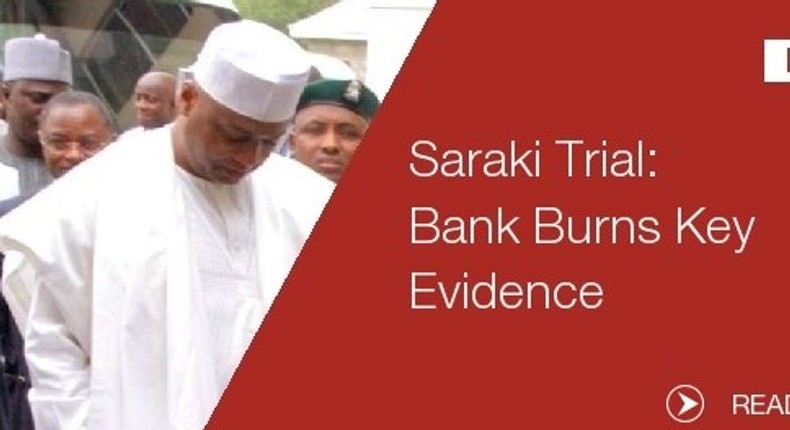 The Economic Financial Crimes Commissions witness,
According to Premium Times, the witness told the tribunal on Wednesday, April 20, that the documents which linked Saraki alleged transfer of $73, 233: 28 were burnt in Guaranteed Trust Bank (GTB), where the transaction was carried out.
Speaking during cross examination by a defence counsel, Paul Usoro, Wetkas said the evidence was destroyed before the trial commenced.
"There is an affidavit and I believe it was fire outbreak," he was quoted to have said.
He said his  investigative team came across the information concerning Mr. Saraki's foreign account through several telexes from the American Express Bank, which was provided by the GTB team.
"There is no doubt that the transaction was actually carried out by American Express Bank.
"A debit in the account of the defendant was there and the narration was clear that money was transferred and where it was transferred from," the witness and detective said.
Wetkas further stated that GTB confirmed the  transfer and the burnt documents, when the bank was invited.
"There were also police reports and affidavit which they (the GTB) swore to show that  some documents were burnt," he said.
When asked whether or not he (Mr. Wetkas) knew if the American Express Bank was a bank incorporated, he said his investigation only concerned the debit card sent from the bank.
"I know the bank exists through open source information. I do not believe anybody will carry his money and throw into a non existent account," he said.
Saraki is standing trial at for an alleged false and anticipatory declaration of assets when he was the Governor of Kwara State.
JOIN OUR PULSE COMMUNITY!
Recommended articles
Nigeria will be out of the woods under Tinubu's government - APC Chieftain
Lagos Police identifies illicit guns, cultism as major security threats
Naira redesign: CBN urges Nigerians to embrace digital payment channels
Youths, women will feel impact of my govt, says Otu
Ogun guber: Adebutu vows to reclaim his "stolen mandate" in court
White House proposed protest against Tinubu has no merit- APC U.S
Bet9ja app mobile review Nigeria in 2023
Betano App Nigeria 2023: All you need to know
Best betting apps in Nigeria 2023: Top picks to choose from
Manchester United identify Portuguese goal-machine Goncalo Ramosas Osimhen alternative
Giannis Antetokounmpo outshines Jordan Nwora as Bucks set record against Pacers
NPFL Review: Rangers continue to flirt with relegation, 3SC vs Plateau produce another classic
Arsenal reach first Champions League semi-final in 9 years with victory over Bayern