'Ex-First Lady made $15M from small legitimate gifts,' Group claims
Mrs Jonathan has also filed a suit against the EFCC and has accused the agency of trying to steal her hard-earned money.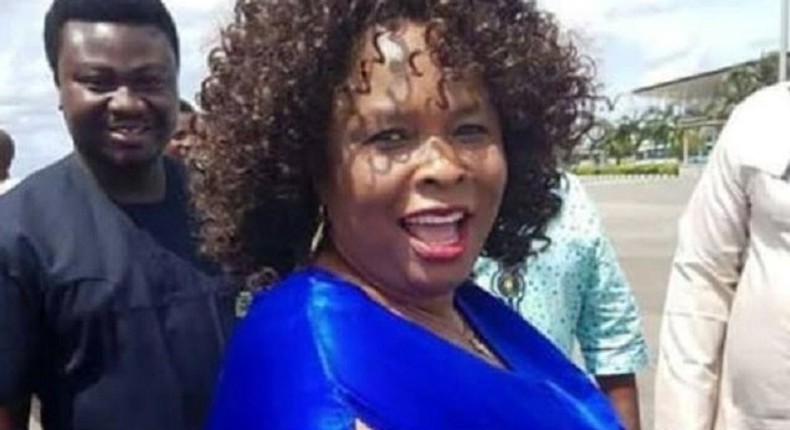 A Niger Delta group has said that former First Lady,
Mrs Jonathan is being investigated by the Economic and Financial Crimes Commission (EFCC) for money laundering after large sums of money stashed in various bank accounts were traced to her,
However, according to the group, Union of Niger Delta Youth Organisation for Equity, Justice and Good Governance, Mrs Jonathan has done nothing wrong.
It gave an explanation of how the funds were raised via a document with which it also announced that it had taken legal action against another group, Socio-Economic Rights and Accountability Project (SERAP) for falsely accusing Mrs Jonathan.
The statement reads in part:
"The funds in question were legitimate gifts from her friends and well-wishers over the last 15 years which she had been saving in order to utilize to upgrade family businesses and concerns which had been somewhat dormant by reason of the long period of her husband service as a public officer in Nigeria."
"The gifts were given in small contributions by several persons some of whom she cannot even now recall over this period of 15 years sometimes in as small a gift as N250,000 Naira. In order to preserve the value of these funds which she did not require for any purpose at the time she changed them into foreign exchange and kept them as cash for a long period in her home safe in Port Harcourt and Abuja.
"It was when the family home in Otuoke was burnt down by hoodlums under the instigation of political adversaries in 2010 that she began to think about banking these gifts which had now grown to large sums in United States Dollars. In 2010 she therefore summoned one of her husband's domestic aides, Waripamo-Owei Emmanuel Dudafa to assist her in opening bank accounts into which the funds could be deposited.
"Unknown to her the said Dudafa in a bid to be discreet about the owner of the funds decided to bank the funds in the names of companies owned by him. When she discovered this she was constrained to continue with the names of the companies when she was advised that it did not make any difference as to the ownership of the funds since the director of the company would appoint her as sole signatory to the accounts in question.
"When in 2016 Dudafa was arrested and detained she had no fear for the funds as she realized that the funds could not be attributable to him once it was discovered that she was the sole signatory to the said accounts. It was therefore a rude shock to her when she discovered that a no transaction order had been placed on the accounts by the EFCC in the belief that the funds belonged to Dudafa.
"She instructed her solicitors to further write to the EFCC to inform them that the funds belong to her and that they formed a part of her legitimate earnings over the last 15 years. It was this letter that was leaked by the EFCC to the media that became sensationalized and led to the plaintiff's vilification and attack by ignorant persons who had no information about the matter."
The group is also urging the court to order SERAP to stay all legal action and attempted legal action against Mrs Jonathan.
Meanwhile, Mrs Jonathan has also filed a suit against the EFCC and has accused the agency of trying to steal her hard-earned money.
JOIN OUR PULSE COMMUNITY!
Recommended articles
NAFDAC alerts on toxicity, ban of European cosmetics product Placentyne hair lotion
NDLEA seizes N6bn worth of drugs in Apapa – Commander
Kebbi govt allocates land for 5,600mw solar power project
Makinde approves recruitment of additional 500 Amotekun Corps
Bandits kill Catholic priest on farm in Kaduna
Atiku group fires back as Obasanjo admits mistake in picking running mate
Nigerian lady offers her kidney to save Ekweremadu's daughter
US police found missing ex-Nigerian diplomat dead
Obasanjo tutors students on need to imbibe religious tolerance