Clergy says most Nigerian pastors are fake
In his words, "The problem we have in the church is that a lot of these pastors are not men of God as they were not called.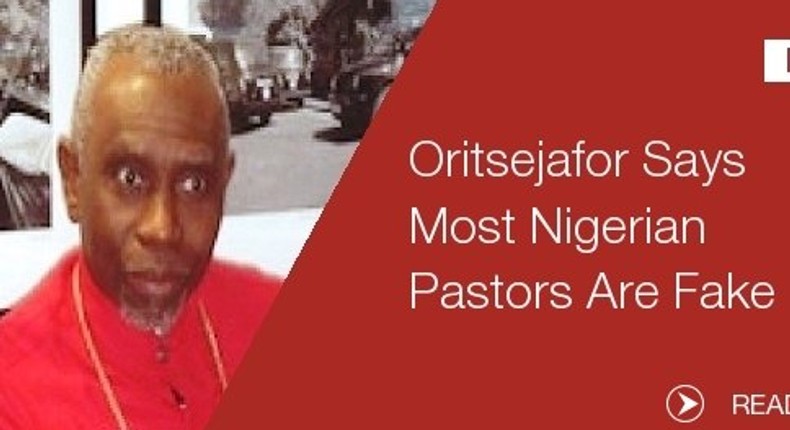 Outgoing President of the
In a recent chat with Punch Newspaper, Oritsejafor, who was the ex-National President of the Pentecostal Fellowship of Nigeria, went further to say the fake pastors are merely mercenaries, who are basically commercially minded people.
'They are mercenaries, commercially minded people. The duty of the church is to preach morality not materialism and because Nigerians are very gullible; they are easy victims of deceit. They fall prey to some of these pastors or prophets of doom. The way they live gives a wrong impression of what should be in a church of God. There should be no room for material possessions,' he said.
Continuing, he said, 'I am not saying a man of God should not live a life of comfort but it should be a life of good comfort; that is why kidnapping is now a common thing even in the church.
'It is unfortunate that we are having this kind of problem because most places of religious gathering, particularly of the Christian faith, are seemingly reducing their faith to commercials. So many people think they have money and most of them live a flamboyant lifestyle.
'As such, the kidnappers mistake them for money men but there is nothing there. The kidnappers would be kept at bay if they stopped preaching prosperity and allowing dirty money to go into the church coffers. I also think the church is losing its moral values. The values are disappearing gradually.
'We should preach values and not materialism. I think the churches themselves should look inwards and correct the poor impression they are giving people outside that there is money in the church, whereas there is none,' he maintained.
JOIN OUR PULSE COMMUNITY!
Recommended articles
Troops kill 5 bandits, recover 4 AK-47 in Kaduna
Datti's Comment: NBC fines Channels TV N5m for breaking broadcast code
NAFDAC bursts store in Anambra for unregistered sex enhancement drugs
PDP queries INEC's silence over petition, insists on authentic BVAS results
Adeleke's govt explain why Osun workers have not received March salaries
Makinde renames state-owned Technical University after late Ajimobi
Nigeria will be out of the woods under Tinubu's government - APC Chieftain
Lagos Police identifies illicit guns, cultism as major security threats
Naira redesign: CBN urges Nigerians to embrace digital payment channels
Manchester United identify Portuguese goal-machine Goncalo Ramosas Osimhen alternative
Giannis Antetokounmpo outshines Jordan Nwora as Bucks set record against Pacers
NPFL Review: Rangers continue to flirt with relegation, 3SC vs Plateau produce another classic
Arsenal reach first Champions League semi-final in 9 years with victory over Bayern